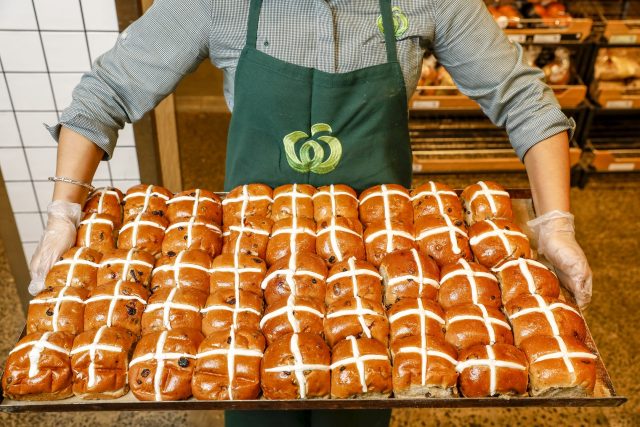 Woolworths is introducing new measures in stores in a further bid to keep its customers and team members safe.
In the coming week, Woolworths will be limiting the number of customers allowed in store from time to time to enable social distancing between customers. The number of customers allowed in the store at any one time will be dependent on the size of the store.
Outside Woolworths stores there will be signage and a coned area instructing customers where to queue and the number of customers in-store will be managed using a one in, one out policy.
Woolworths will work closely with local centre management security and police to help manage queues outside the store at peak times to ensure customers are keeping at least 1.5 meters apart from each other.
Woolworths is also helping Australian families continue their favourite Easter traditions like going egg hunting in their own backyard and enjoying an Easter meal in their home.
To celebrate the occasion, Woolworths is reducing the price of its Woolworths Hot Cross Buns to $3 and has over 100 specials across its Easter range.
Woolworths expects to sell four million Easter bunnies and seven million Easter eggs from tomorrow to Easter Sunday.
"While Easter won't be the same this year, we know Australian families will still want to maintain traditions in the new normal environment," said Woolworths Supermarkets Managing Director, Claire Peters.
"From the kids doing their Easter egg hunt around the house, waking up to the smell of hot cross buns, to cooking up a feast for those in your household, these little traditions are important for us all to hold on to in this challenging time.
"Traditionally, the Thursday in the lead up to Easter is one of our busiest times in-store. We ask our customers to pre-plan their Easter shopping to avoid the usual Thursday spike in numbers.
"We're pleased to be switching back on our 'Pick Up' service for our Priority Assistance customers from Monday in the majority of our stores, with a family member, friend or neighbour able to collect on their behalf.
"Keeping our supermarkets safe for our teams and customers remains our top priority. Customers will start to notice stores implementing new social distancing measures in the lead up to the Easter weekend.
"Depending on how busy the store is, we may limit the number of people entering the store from time to time. Customer limits will be specific to each location and based on the size of the store. Our store managers will use common sense discretion to manage this in the interest of community safety.
"We know it may take some getting used to but we ask our customers to be patient with us during this time. Supermarkets overseas have successfully adopted similar measures.
"We also encourage everyone to be community minded when queuing."
The rollout of plexiglass screens across manned checkouts will be implemented as an additional safeguard at stores.