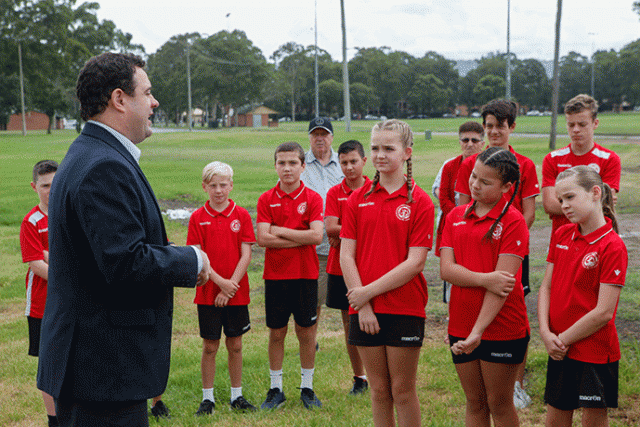 The delivery of major upgrades to Jamison Park won't be impacted by the scandal surrounding sporting grants in marginal electorates, Penrith City Council says.
This time last year State Penrith MP Stuart Ayres, who was also Minister for Sport at the time, met with members of the Nepean Football Association (NFA) to announce a $2.5 million grant to help install an all-weather synthetic surface at Jamison Park, as part of the $100 million Greater Sydney Sports Facility Fund.
As local sporting clubs continue to wait for the project to commence construction, the State Government is being accused of using the fund to bolster its 2019 re-election campaign in a range of marginal seats including Penrith.
The accusation from the State Opposition comes after the Federal Government became involved in a similar controversy over their Community Sports Program.
Of the 15 grants awarded under the Greater Sydney Sports Facility Fund – worth around $33 million – only two were allocated in Labor seats and one held by the Greens.
Mr Ayres told The Sydney Morning Herald that as Minister he "approved the recommendations presented … by the Office of Sport following a process that included an assessment panel and probity plan".
The $2.5 million to Jamison Park was one of three grants awarded locally, with the others in the Mulgoa electorate.
Responsibility to deliver the Jamison Park project now falls with Penrith City Council, with project planning underway.
"The synthetic multi-sport playing fields at Jamison Park is one project that Council is delivering that is part of an assortment of community projects worth in excess of $100 million," a Council spokesperson said earlier this week.
"The project is out for tender closing January 22 with construction expected to start mid-year, and completed by the end of the year, subject to weather."
Council said despite this week's controversies, the delivery timeline of the project will not be impacted.
The total value of the project will be $3.7 million which includes a $1.1 million contribution from Penrith Council and a $75,000 contribution from the NFA.
The Jamison Park work aims to ensure local sporting clubs can use the park year-round.
Note: An earlier version of this story noted that the Greater Sydney Sports Facility Fund had been audited by the National Audit Office. This was incorrect.
A graduate of Western Sydney University, Nicola Barton is a news journalist with the Western Weekender, primarily covering crime and politics.