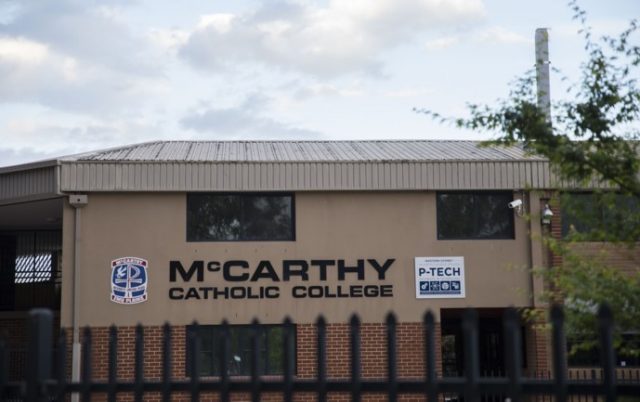 Parents as well as current and former students are campaigning against a plan to change the name of McCarthy Catholic College in Emu Plains, arguing that the school's history is being shunned.
Established in 1986, the school holds great historical significance to the area, as the founders, the McCarthy family, played a pivotal role in keeping the Catholic faith alive in Sydney.
Last week, the Catholic Education Diocese of Parramatta confirmed the Emu Plains school would be known as Penola Catholic College from next year.
Penola is the place where St Mary of the Cross Mackillop and Father Julian Tenison-Woods started a school, beginning their work of extending the opportunities of education to thousands of Australian children and young people.
The decision has not been met positively by the school's community, with parents claiming they were not informed prior to media coverage last week.
1986 founding class graduate, Maria Murray, said it was shameful for the Diocese to announce the move during the HSC exam period and said if it weren't for her son finally being settled in the school, she'd pull him out.
"The Mary Mackillop ethos is already in the school, the McCarthy name is the sense of the community and the connection to the area," she said.
With the decision comes a complete rebrand of the school, with uniforms, logos and signage set to change ahead of the 2020 school year.
Ms Murray is furious that her son, who is in Year 7, will be expected to buy new uniforms once the grace period has finished.
Parents have also raised concerns over the soon to be obsolete hand-me-down system.
But it's not just the founding students and parents that are upset.
2013 graduate Elisha Batty said she too was devastated by the news.
"Going through the school, the values of the McCarthy family were really instilled in us, it wasn't just a name, it was our identity," she said.
The Diocese claim the announcement "follows considerable reflection among the school community" and that the history of the College and the McCarthy name will continue to be recognised and acknowledged in a variety of ways at Penola Catholic College as well as at the McCarthy campus of CathWest Innovation College.
A petition in protest, created by Ms Murray, has already garnered over 900 signatures.
To view the petition, visit bit.ly/2Jtl4wg.
A graduate of Western Sydney University, Nicola Barton is a news journalist with the Western Weekender, primarily covering crime and politics.