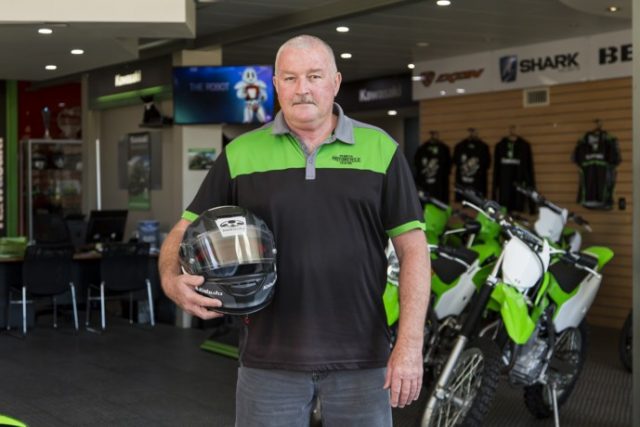 Local riders are being urged to take precautions as Motorcycle Safety Awareness Month rolls on.
From 2014-18 six fatal motorcycle incidents occurred locally, with an additional two riders injured, one seriously and the other moderately.
This year's safety campaign is putting a spotlight on helmets and the importance of safety ratings.
Graham Thomson from Penrith Motorcycle Centre has been riding motorbikes for over 40 years and said you can't skimp on safety.
"A lot of people keep helmets for too long, you should really be changing them every three to five years or even earlier if it's had a bit of an impact," he said.
"Generally a helmet might look like it's in a good condition on the hard outside, which is there to stop penetration, but the lining inside, the padding that is there to protect your brain, over time compresses and loses its ability to protect your brain from concussions."
If you look inside a brand new motorcycle helmet, the lining is painted black. After a year or so of use that paint begins to wear, revealing the white foam.
Mr Thomson said this can be a good indicator that a new helmet is needed.
"You only get one head," he said.
"We can give you a bit of an idea of whether the helmet needs replacing or not and talk you through the process to ensure you get a helmet that fits you properly, which is important."
Last week the State Government released the latest helmet safety ratings after testing 30 helmets against a range of criteria, including protection and comfort.
NSW Roads Minister Andrew Constance said it was critical that riders took safety seriously.
"Motorcyclists are much more exposed than motorists if they're in a crash, which is why choosing the best helmet is so important," he said.
"So far this year, there have been 51 motorcyclists killed on NSW roads. This is eight more than during the same period last year.
"In 2018, 16 per cent of all road fatalities (54 fatalities) and 12 per cent of all road injuries (2,096 injuries) were sustained by motorcyclists. When you realise motorcycles only account for around four per cent of all motor vehicle registrations these statistics are concerning."
Of the helmets tested, the Airoh Valor was the top rated with the Bell Scout Air the lowest.
A graduate of Western Sydney University, Nicola Barton is a news journalist with the Western Weekender, primarily covering crime and politics.