A serial shoplifter busted with stolen goods has been jailed for at least six months after pleading guilty to a string of offences.
Thomas John Beale, 37, appeared on screen at Penrith Local Court last Thursday charged with a host of dishonesty crimes. Over a matter of six months, Beale pilfered a number of items, including chocolate bars, lollipops, 30 pairs of anklet socks, cosmetics and four bottles of vodka.
He also kept a mobile phone he found in a St Marys car park, which was recovered when the owner utilised a "find my phone" app.
The court was told the offender had a "troubled upbringing" and had a serious 'ice' addiction as well as alcohol issues.
Magistrate Peter Thompson noted he had received short sentences in recent years and hadn't had much support or been afforded a long stint on parole to assist with his rehabilitation.
He warned Beale he was only going to receive longer and longer sentences if he continued to re-offend.
"Make the most of it, don't waste it," he said of his time on parole.
He was handed a 12-month aggregate sentence with a six-month non-parole period.
With time already served, he is eligible for release on January 10, 2020.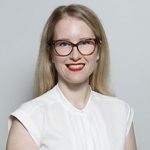 Alena Higgins is the Weekender's Senior News Reporter, primarily covering courts and Council issues.