Rachael Leahcar believes that every colour is a story to tell and a song to sing. The singer is taking audiences on a journey down memory lane in her intimate 'Colours Of My Life' show at The Joan.
Rachael told the Weekender that her show is a unique and a real look behind the scenes of her life.
"I tell my biographical story from birth in a cabaret setting and talk about my eye diagnosis as I am legally blind then onto the amazing things I've done," Rachael said.
"A lot of people know me from the TV series 'The Voice' I was on in 2012 but that was not the beginning and certainly not the end for me."
The songstress hopes that her show, which features homemade videos of her along with her hit songs and her personal favourites, will inspire people in the audience.
"Music has always been a passion for me as much as that sounds like a cliché, but I am very grateful and hope the audience can get some inspiration for their own lives," Rachael said.
"I encourage everyone to not let anything stand in your way and you might have a journey like mine from taking a chance."
Coinciding with her 'Colours Of My Life' tour, Rachael will be releasing a new album which is Christmas themed.
"I've always wanted to do a Christmas album as I love Christmas and am a big kid plus it has six different languages and a few duets," Rachael said.
"It's called 'Together For Christmas', which is perfect as that's what it is all about, so I hope I can be a part of everyone's Christmas if they are listening to my music."
With her powerful vocals and stage presence, Rachael's show is a must for those young and old, especially those who fell in love with her on 'The Voice'.
"I think aspiring musicians will benefit as I give them the absolute truth about the industry. There are ups and downs with real hard work involved," Rachael said.
"It would also appeal to people of the older generation as the songs bring up nostalgia. And I just want to make people feel good as everyone deserves that."
Rachael Leahcar will perform at The Joan in Penrith on Saturday, October 5 at 7.30pm. Tickets are from $18. To book or for more information, call 4723 7600 or visit www.thejoan.com.au.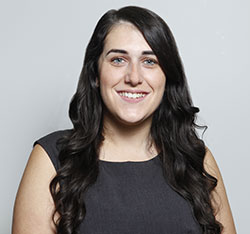 A graduate of Western Sydney University, Emily covers community news and entertainment for the Western Weekender.