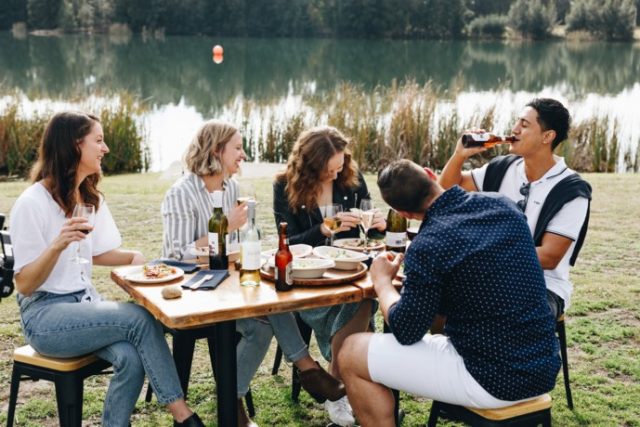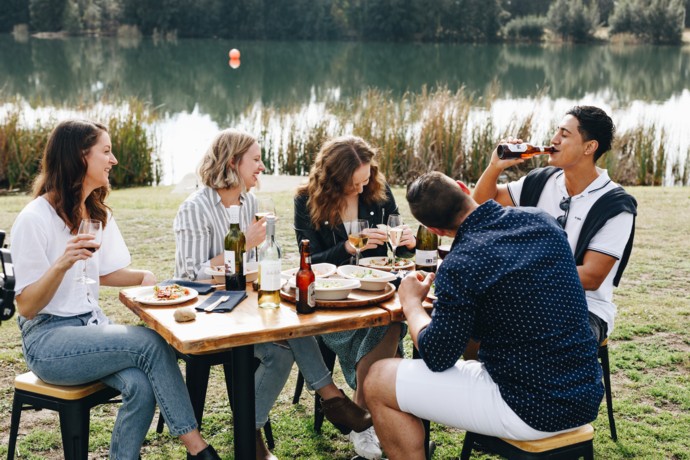 This coming Saturday marks a pivotal moment in the evolution of the Penrith landscape with the inaugural Lakeside Long Lunch hitting town.
The concept is unique to Penrith. Never before has Penrith hosted a food and wine festival, let alone one of this size.
Located at the Sydney International Regatta Centre. An estimated 5,000 people are expected to enjoy the day surrounded by stunning lake, mountain scenery, food, wine and entertainment.
Here is everything you need to know for the momentous event.
The Food and Wine component
The Lakeside Long Lunch is built around incredible food and wine.
All Lakesider's will be treated to a beautiful lunch which has been included in the ticket. Further to the 4 lunch options, an additional 7 food options are available with culinary delights ranging from oysters, smoked meats, hand-crafted pizzas, cheese boards and artisan pastas.
Wine lovers rejoice! A total of 25 wines will be showcased in which you have the opportunity to taste, buy a glass or bottle to enjoy. Furthermore, another 11 sparkling and champagne options will be there to make you feel all bubbly inside!
Not a wine lover? 3 additional bars will be serving beer, spirits and cider all day long.
The Entertainment
The Lakeside Long Lunch boasts an action-packed day of entertainment. Whether it's a chilled acoustic vibe, jaunty jazz tunes or the best in soul and R&B we've got you covered.
With more than 10 acts over 2 stages culminating in 8 hours of live-music – this event truly is more than just a food and wine festival.
Full Entertainment set list can be found below:
10.30am-11.15am Victoria Cutts Acoustic Stage
11.00am-12.00pm The Lovefools Panthers Stage
11.00am-3.00pm Phat Brass Band Roaming
11.30am-12.15pm Liam Gray Acoustic Stage
12.15pm-1.30pm Hype Band Panthers Stage
12.15pm-3.00pm Liam Gray VIP Room
12.30pm-11.15am GNLE Acoustic Stage
1.30pm-2.15pm Jarrod Michael Acoustic Stage
1.45pm-3.45pm Suite Az & Voli K Panthers Stage
2.30pm-3.15pm LG Jazz Trio Acoustic Stage
3.30pm-4.15pm Rachel & The Moonshine Band Acoustic Stage
4.00pm-5.00pm The Lovefools Panthers Stage
5.00pm-6.00pm Jazz Hourigan – DJ Acoustic Stage
The Activations
Food – check, wine – check, music – check. Now it's time for the cherry on top – the activations.
With an stellar line up of various activities in which you can bounce, paint, paddle, spectate, fly, play, snap and ride around, you will find it near impossible to see and do everything in just one day.
All activations are included in the admission price (except the mountains helicopter rides). Whilst most activations are "rock up and have a go", a few require a sign up for the next class. These include Zoo Fitness' wine yoga, Pinot and Picasso's Speed Painting and Botanica Factory's Flower Crown Workshop.
Finally, the AFL Grand Final will be streamed across two big screens to ensure we are all watching the boys from the West bring home their maiden flag.
Be sure to get in early to experience, taste and drink all that is on offer.
Getting There & Home
Whether you are coming for the food, the wine or the good times – getting in and out in a safe manner is of paramount concern at the Lakeside Long Lunch. The venue has the following options:
Shuttle Bus
Buses from Penrith Station will be doing the rounds from 10:00am until the last person exits the venue. This service is free, however ticket proof is required to board.
Rideshare and Taxi Rank:
If you coming by from an external charter service, a seperate area is designated for the pick up and drop off. These cars will be running all day long.
Drive and Park at the Sydney International Regatta Centre
Parking is available at the venue if you are planning on driving home. Parking costs $20.00 on the day and $10.00 pre-booked.
Last Important Tips to Remember
– Get in early and truly enjoy the whole day of the Lakeside Long Lunch
– Wear comfortable clothes, there is a lot to do!
– Share your experience to win an upgraded package to the 2020 Lakeside Long Lunch
– Come ready for an incredible day out