A bicycle rider who went on a violent and expletive-ridden rant along High Street when a group of plain-clothed police officers failed to get out of his way, has been jailed for a minimum of four months.
Even after the trio of Penrith prosecutors, who were out grabbing lunch, identified themselves as officers of the law and suggested he keep riding if he didn't want to get "locked up", Toby Baker, 18, dropped his bike and continued his tirade of abuse, telling the sergeant: "I don't give a f**k, c**t. You c**nts were taking up the whole path."
He was placed under arrest after pushing one of the officers in the chest, but continued to thrash about and was eventually restrained on the ground.
Penrith Local Court heard despite attempts to calm him, Baker, who had only turned 18 days before, became more erratic, lashing out again, kneeing the same officer in the stomach while continuing to kick and strike.
Even inside the caged police truck the abuse raged on, with Baker yelling "you're a bunch of f**king muts" before leaning back and spitting multiple times at the arresting officer, connecting with his face and business shirt.
During his sentencing last Thursday, Magistrate Brian van Zuylen disagreed with defence submissions that the matter could be dealt with by way of good behaviour bonds, given it was Baker's first offences perpetrated as an adult.
On multiple occasions Magistrate van Zuylen refused his lawyer's request to stand the matter down for a Sentencing Assessment Report, noting it was an unprovoked attack and he was given the opportunity to move on.
"I don't need one," he declared, arms crossed.
"He has a 23-page juvenile record, how many chances does he expect to get?"
His lawyer painted a childhood filled with neglect and abuse and reminded His Honour he was required to take Baker's unresolved "complex trauma" and mental health issues into account.
"He has a history no one would conceivably wish upon themselves," she said.
Magistrate van Zuylen said he had already carefully considered his deprived background and youth, but had to counter it with his long history of disobedience.
Baker, who spent three weeks in custody bail refused following the July 25 incident before being released on strict bail on August 15, was sent back down to the cells to begin serving his term.
He was jailed for eight months with a four-month non-parole period for assaulting and resisting police, while he was convicted with no further penalty for riding a bike on a footpath, not wearing a helmet, offensive language and possessing a small quantity of cannabis.
He is eligible for release on December 29 but has lodged a severity appeal.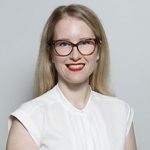 Alena Higgins is the Weekender's Senior News Reporter, primarily covering courts and Council issues.