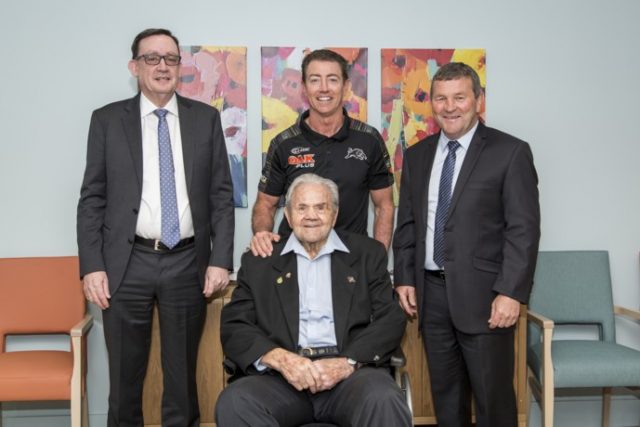 Newly completed retirement village, The Royce, welcomed its first resident earlier today – and he holds great significance to the Penrith Panthers Leagues Club.
The longest living life member of the club, 91-year-old Harry Slaughter and his wife Colleen are among the first to move into the complex, which is one of the largest retirement developments in Penrith's history.
Included in the welcoming party were Panthers legends Royce Simmons and Greg Alexander as well as generations of family members.
His daughters, Jo Cleary and Kerry Mann both said they were taken aback by how beautiful the facilities were.
"Dad's been in Penrith for a long, long while and we just wanted him to be closer to our family, there's lots of us, children and grandchildren so we wanted him to enjoy his time here at Panthers," Ms Cleary said.
"He was on the committee that first formed the club and it's his favourite team so it is special to be here."
Ms Mann added: "The place is absolutely fantastic, when the opportunity came up to be here, we knew mum could come here too so it was a nice opportunity for them to be together."
The Royce retirement living and The Royce Manor aged care are co-located which has meant that both Harry and his wife Colleen can continue to see each other every day as they have done for over six decades.
Mr Slaughter has strong ties to both football and the Penrith community.
As a youngster he was known for his height and strength, which made football a perfect match for him.
Playing for St George Football Club, he soon after became part of the inaugural committee.
Later he became the Deputy Chairman of Penrith RSL, and formed part of the team that led the building of the football oval at his sons' school, St Dominic's College in Kingswood.
Harry is the 44th life member and the longest-serving life member of Panthers. To this day he is known in the club as 'Big Harry'.
Due to his history with the club and local football, it was only fitting for Mr Slaughter to move in a place which aims to carry the legacy of Mr Simmons.
Mr Slaughter and his wife were all smiles as they started the next chapter in their lives.
A graduate of Western Sydney University, Nicola Barton is a news journalist with the Western Weekender, primarily covering crime and politics.