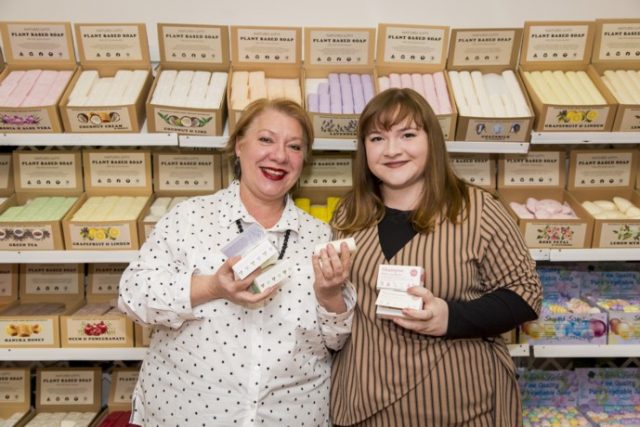 Penrith soap and body care manufacturer Clover Fields is celebrating a special milestone, as the company has officially saved 150,000 shampoo and conditioner bottles from being made and used.
Operating in Penrith since 1983, the company is Australia's oldest family-owned soap manufacturer and sells both locally, interstate and abroad.
Although the initiative, Shampoo with a Purpose, only launched under 12 months ago, it has grown to become their second best selling product of all-time.
The $15 bar is equivalent to six bottles of shampoo, benefiting not only the environment but your pocket too.
Clover Fields owners, mother and daughter duo Elizabeth and Geneva Valek, said doing their bit for the environment is their highest priority.
"Shampoo with a Purpose is one of our newer brands, which we launched in August last year and we've been selling this across the country and exporting overseas, it's been really exciting," Geneva said.
"We started doing the shampoo bars because there's a huge push in the market for plastic-free and environmentally friendly products that are all natural and because of that, shampoo bars have been really popular."
The shampoo and conditioner bars cover four different hair types including original, dry or damaged, volume and colour treated.
Argan oil, shea butter, sandalwood and kakadu plum are just some of the natural ingredients used.
Geneva said their bars are set apart from popular brands as their formula and technique ensures their durability.
"Normal shampoo bars are hand made so they fall apart in the shower and don't last very long but ours, because they are tripplemill they are like a high quality soap without the soap, last for six bottles of shampoo and conditioner and don't fall apart in the shower," she said.
"We've received a positive response from locals and they sell phenomenally. People just want an alternative to shampoo in bottles but also something to improve on that regular product they use."
Soap bars have been gaining popularity across the country as concern increases about climate change and waste disposal.
Geneva said the shampoo and conditioner bars are an easy, money saving switch for local residents that has a huge positive impact on the environment.
A graduate of Western Sydney University, Nicola Barton is a news journalist with the Western Weekender, primarily covering crime and politics.