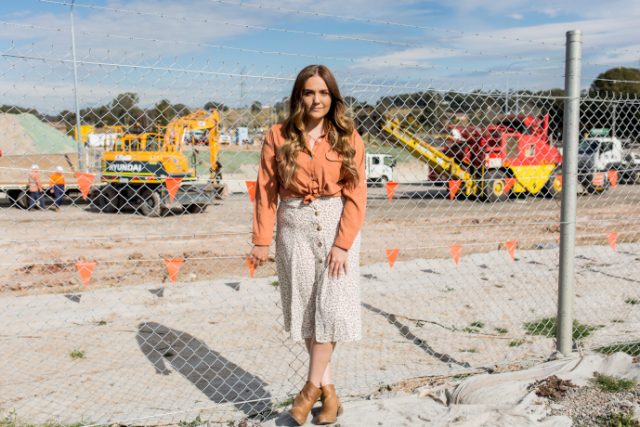 Road works at the intersection of The Northern Road, Glenmore Parkway and Wentworth Road have sparked concerns amongst locals, with a lack of vision already causing collisions.
The third stage of The Northern Road upgrade between Glenmore Parkway and Jamison Road started in June 2017 and is expected to be completed in 2020.
As part of the upgrade, work is being carried out at the intersection to replace the existing roundabout with new traffic lights.
In preparation, Wentworth Road has been closed with another temporary Orchard Hills entry point just south.
Confusion around needing to be in the left lane to exit onto the Orchard Hills exit is causing peak hour chaos.
Many locals have also voiced their concerns on social media about vision difficulty.
Glenmore Park resident Caitlin Bailey knows this all too well after she was hit exiting the roundabout last Thursday.
"I was on my way to my partner's house who lives out Warragamba way, so I had to come out of the Parkway and as I was exiting there was a guy nudging his car out of Wentworth Road and he went and smashed into the back of my car," she said.
"I pulled over and he was so nice but I couldn't blame him because the roundabout is a nightmare, he was really upset.
"The layout is terrible, you can't see, even though I was slow you can't see it coming so you just have to go for it and hope for the best but with all the traffic from the school it's so dangerous."
Other minor collisions and a few near misses have also been reported by local residents.
A spokesperson from Transport NSW confirmed that removal of the roundabout and placement of new traffic lights should be completed by mid next year.
"Transport for NSW understands motorists are still adapting to the changed traffic conditions at the intersection and is putting in place a number of measures to assist motorists through the changes," the spokesperson said.
"Work is being carried out to improve line of sight for motorists, install additional line marking and install additional signs to provide clear information about roundabout movements.
"Transport for NSW will continue to monitor the intersection and implement changes, as necessary."
A graduate of Western Sydney University, Nicola Barton is a news journalist with the Western Weekender, primarily covering crime and politics.