Children at Penrith South Public School were the first to try out a new State Government initiative which offers free mobile dental check-ups.
The program, focusing on primary school students in western Sydney, the mid North Coast and the Central Coast offers teeth cleaning and dental x-rays.
Premier Gladys Berejiklian joined Penrith MP Stuart Ayres, Minister for Education Sarah Mitchell and Minister for Health Brad Hazzard to launch the program this morning.
Ms Berejiklian said the mobile clinic aims to help families with cost of living pressures to ensure their children get the dental healthcare they deserve.
"The mobile dental program builds on existing NSW public dental services that make dental care available to all Medicare eligible children for free," she said.
"This program will bring NSW health dental practitioners into NSW primary schools, to make it easier for children to access vital services."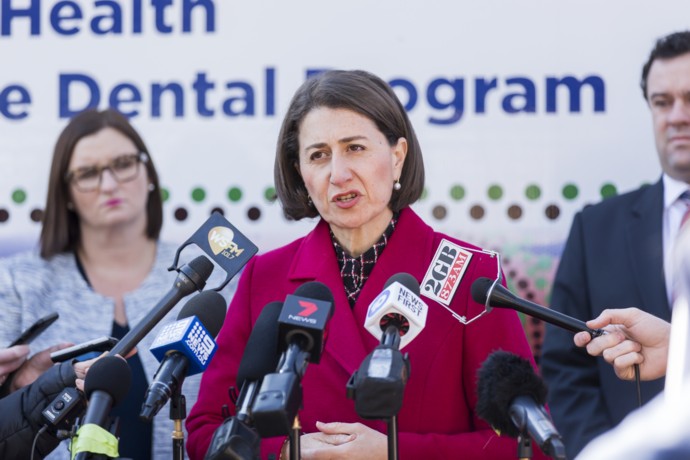 The $70 million investment will see 35 mobile dental clinics provide checks and basic dental care to up to 136,000 primary school children over the next four years.
Mr Hazzard said thousands of children are admitted to NSW hospitals every year with potentially preventable dental conditions and this program could reduce presentations.
"Children's oral health can influence their general health," he said.
"A healthy mouth ensures kids can eat, speak and socialise without discomfort and embarrassment, so it's important that we treat and teach them about oral health early."
Oral health problems can make it difficult for children to concentrate during school. Ms Mitchell said this was part of the driving force behind the program to ensure children are focused and present in their learning spaces.
"Dental problems can disrupt a child's sleep, so they arrive at school tired, making it difficult to concentrate. It can also affect their chewing and swallowing," she said.
"Children are like sponges in primary school; so educating them on the importance of regular health check-ups when they're young will hopefully transpire to later in life as well."
The program will be delivered by experienced NSW Health staff from their fully equipped dental vans.
Schools have been prioritised based on their oral health risk level.
Parents at participating schools will have to provide consent before their child undergoes a check up.
A graduate of Western Sydney University, Nicola Barton is a news journalist with the Western Weekender, primarily covering crime and politics.