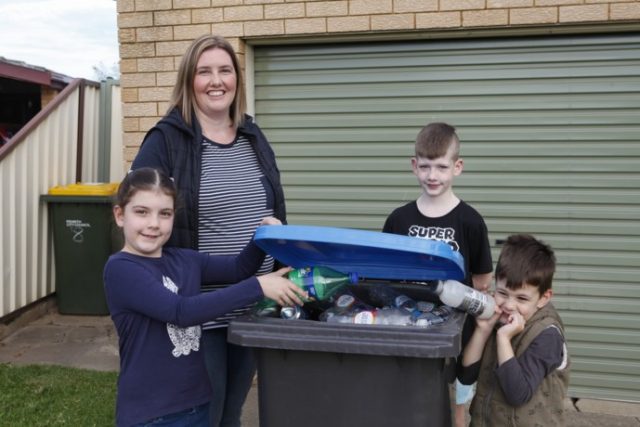 Recyclers behold – a new blue bin system is available that will conveniently convert your containers into cash right from your doorstep.
As part of the Return and Earn scheme, Prestons Container Deposit Centre, operated by Nepean Distributors Group, has come up with an easy solution that's good for both your pocket and the environment.
The home collection service is free and works by locals signing up online to receive a large Otto bin, which is tagged with your name and address.
Once the bin is full, you simply book in for a pick up online, it is collected and the money is distributed into your nominated bank account.
Getting down to collection points can be difficult when you're running a busy household, which is why the concept is quickly becoming popular.
Werrington County resident Louise Mooney said she jumped at the idea after hearing about it in a community group online.
"We've had two collections so far and just about to book in our third," she said.
"It's been really good, I never worried with the cans and that before because it was too much effort and there's always a line up. Now the kids are using it to save up for a monkey bar set, it's great pocket money."
Ms Mooney said it took about one week for the money to be deposited into her account. Her last collection earned her kids about $35.
Security measures are in place to ensure the bins don't get stolen, with residents giving the collectors permission to enter their property.
The day before a pick up, an email notification is sent, to which the homeowner then replies with the location of their bin.
Nepean Distributors Managing Director Anthony Morrissey said it's also a great way for organisations to fundraise.
"We already had this kind of service for school fundraisers but there's a lot of people who can't get to the scheme so we thought let's come up with a solution for them," he said.
"When you book a pick up now customers can say they want to allocate this many containers to this charity, so we deal with quite a few different charities – the one out in Penrith being Our Community Pantry."
To join the waiting list for the blue bin service in the Penrith local area, visit www.prestonscdc.com.au/collection-services.
A graduate of Western Sydney University, Nicola Barton is a news journalist with the Western Weekender, primarily covering crime and politics.