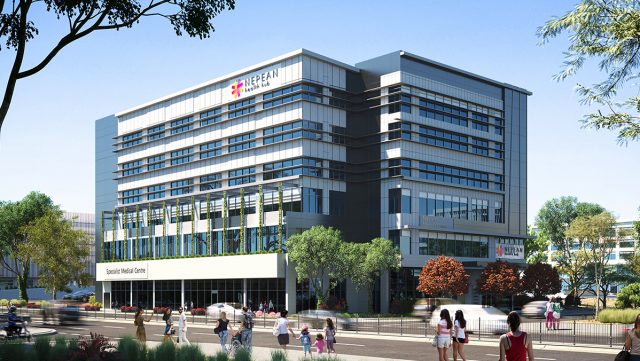 A Development Application for a new health hub in Penrith has been approved.
Cornerstone Building Developments is planning to build the new health hub in the heart of the Penrith hospital precinct.
Adjacent to the Nepean Public and Private Hospitals, the Nepean Health Hub has been designed specifically for medical uses and will complement the $1 billion investment into the hospital precinct.
Cornerstone Building Developments (CBD) Director Simon Heazlewood said that the development will fill a service delivery need for residents in the Penrith area.
"According to the Nepean Blue Mountains Local Health District, there are a number of undersupplied services in the area and this development will offer a multi-modal, integrated medical office building to address this need in the region," Mr Heazlewood said.
"The Nepean Health Hub is a one-stop health destination and is designed to deliver everything from general practice, specialists, allied health, mental health, diagnostic imaging, dental, pharmacy, research and skin clinics.
"Services are not only more accessible for patients by being under one roof, the health hub also encourages service providers to work collaboratively across an integrated delivery model to ensure the care provided is patient-centric and holistic.
"We know the best outcome for a patient is when the various practitioners work in partnership to align their decisions with the needs and preferences of the patient. That's what we hope to achieve in the Nepean Health Hub.
"We believe this is great news for the region and look forward to delivering a state-of-the-art facility, bringing together those at the forefront of modern health delivery to fulfil our vision of achieving exceptional health and wellbeing for all communities."
The Nepean Health Hub ― which is located in a prominent, high-exposure corner position in the health precinct ― will offer flexible tenancies of up to 1250m² for lease or purchase across six levels. A further three levels of basement carparking will accommodate over 180 car parks. There are turnkey fitout solutions available.
Construction of the Nepean Health Hub is expected to commence in the next few months.