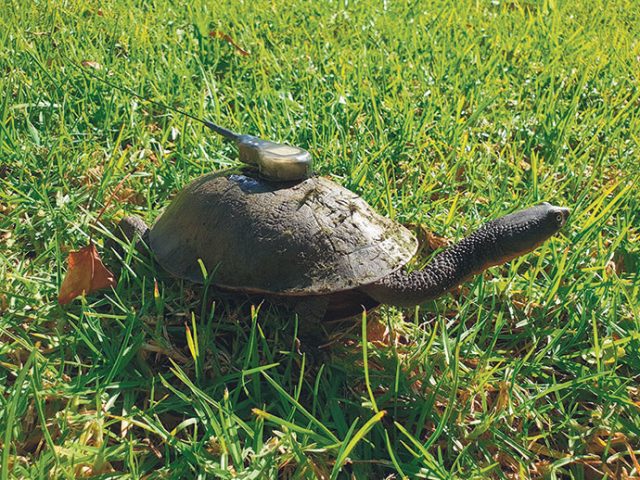 A new experiment by Turtle Rescues NSW is underway, which will see 10 Eastern Long Necks returned to the wild to monitor their behaviour after their home was destroyed for development.
Saved from a dewatered dam in the firing line of the Northern Road upgrade, the turtles have now been fitted with radio transmitters and some placed about 10km or 2km from their original habitat.
The experiment, run in partnership with Western Sydney University, aims to monitor their behaviour over the next 12 months to find out whether they can be relocated or if they will attempt to find their old home.
Shane Davies from Turtle Rescues NSW said rapid development in the area leaves these particular type of turtles under severe threat.
"Their populations are declining, there's a lot of habitat loss so we're just looking at and tracking their movements from where they've been rescued to see if they try to make it back, stay where they are or try to move to somewhere else," he said.
"This is just the beginning, there's been research up to this point but as far as the tracking goes this is another level to have even more accurate data."
Turtle Rescues NSW has cleared about 10 dams from the Northern Road widening construction sites, saving about 200 turtles.
The majority of these were released in the Nepean River.
"We want to see if they cope with being moved to another location because they are being forced out of their homes, some of these farm dams have been there for hundreds of years and suddenly they've been removed, so we want to put them in a more permanent body of water," Mr Davies said.
"We need scientific proof to show that they can cope well with being re-released in another area, then we can back up our research."
Turtle Rescues NSW attempted to reach out to developers on the Western Sydney Airport site in attempt to save more turtles but were told they had their own private contractors doing so.
They predict up to 10,000 turtles inhabited the site prior to construction.
More rescued turtles are set to be released in spring and summer with the tracking devices.
A graduate of Western Sydney University, Nicola Barton is a news journalist with the Western Weekender, primarily covering crime and politics.