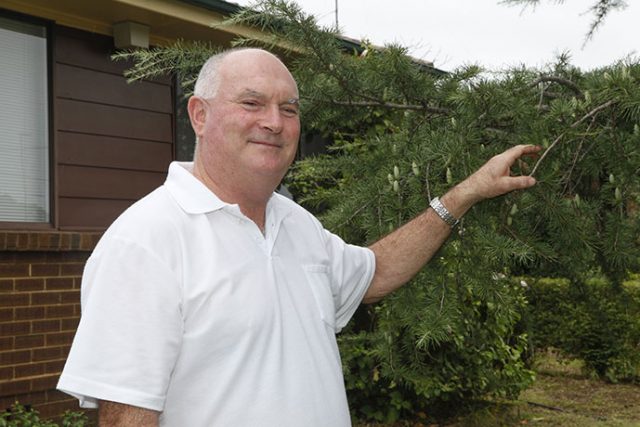 Jamisontown resident Robert Simpson is warning residents to think before they plant, as Penrith Council restricts him from ripping up a tree, which could cost him up to $10,000 a year.
Of the two trees he planted in his front lawn 15 years ago, one has now started to lift his driveway causing thousands of dollars in repairs.
The other is blocking his ability to park a caravan, which would cost him $10,000 a year to put in storage.
Mr Simpson said Council's policies are over the top but seem to be exempt for developers.
"The Council is hypocritical, they cut down thousands of trees for development and yet they have this obscene policy and restrictions in place," he said.
"It comes under the same Government legislation and Development Control Plan with Council, when you read it, it basically says 'tough' to a certain extent, it really has become over the top to say it lightly."
After months of consultation, Council approved for one of the Norway Spruce trees, that was damaging his driveway, to be ripped out but refuse to allow the other to be removed.
Mr Simpson assured the Weekender that he is not an "anti-greenie" but is sick of the double standards tree policies impose on residents.
"To say it's unfair is an understatement, just look at the East Side Quarter development at Panthers, if you get onto Google and look at the number of trees taken out of there, there was about 25 of them, for a billion dollar development," he said.
A spokesperson from Council said they take careful consideration for tree removal applications.
"We recognise there are a number of reasons why property owners may wish to remove trees," the spokesperson said.
"When assessing tree removal applications we do our best to balance the needs of our residents, with broader environmental and planning obligations.
"This may result in trees and vegetation being retained and protected, or conditional removal with appropriate offsets."
The Council spokesperson said the second tree is not to be removed as it is not causing damage and is considered to be healthy.
Mr Simpson said policy amendments need to be made to ensure developers are held to the same strict requirements.
A graduate of Western Sydney University, Nicola Barton is a news journalist with the Western Weekender, primarily covering crime and politics.