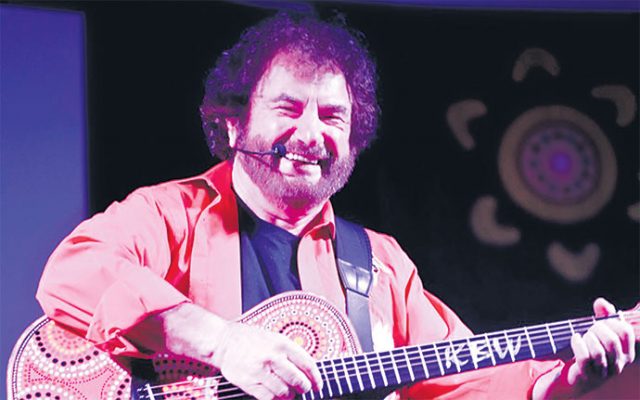 Kevin Bloody Wilson does not bow to political correctness. Full stop.
His new comedy tour continues his larrikin take on life that has been entertaining audiences for years. The title of his show, 'F.U.P.C – World Tour' shows how tongue-in-cheek the funnyman can be.
"You could say it stands for 'For Under Privileged Children'… but if anyone actually interprets it like that I strongly advise they don't come to the show as they may be a little disappointed," Kevin told the Weekender.
The concert features Kevin's trademark songs that are made of original Australian humour.
Combining music and comedy makes for a job that Kevin truly loves, but travelling with his wife Betty – who is also his tour manager – and having his daughter Jenny Talia as his support act makes for an all-round special experience.
"It is a family affair but I'm happy for that, if I wake up next to Betty I'm home, it doesn't matter where I am," he said.
Kevin's love for music started early when he was in a little pub band at 14-years-old with his brother.
He recorded his first song in 1984 as a fun thing to do for his friends, and his career boomed from there.
"I've never ever considered what I do as work because it started out as a hobby and I've treated it as a hobby. Quite a lucrative hobby as it turns out," Kevin said.
35 years later his hobby of telling it as it is has seen him travel to perform in places all over the world, from Penrith Panthers all the way to the London Palladium.
Kevin believes the secret to his success is to keep it simple.
"Nothing has changed in that formula over the years that I've got to do it, some 20 albums later I'm still doing the same thing," he said.
"I'm writing songs about my mates for my mates. I've just come to realise over the last few years I have quite a few more mates."
While he has made a name for himself around the world for pushing the boundaries and has no plans to settle down to be a quiet, old man, Kevin said he doesn't intentionally try to cause a raucous at his shows.
"I don't go out there to stir people but I go out there to give them a good time because I'm going to have a good time however, if the subject matter offends some people then I just advise them to stay home," he said.
Kevin Bloody Wilson will be at the EVAN Theatre in Penrith on Wednesday, March 6 at 8pm. Tickets are $62.05. To book or for more information, call 1300 PANTHERS or visit penrithpanthers.com.au.