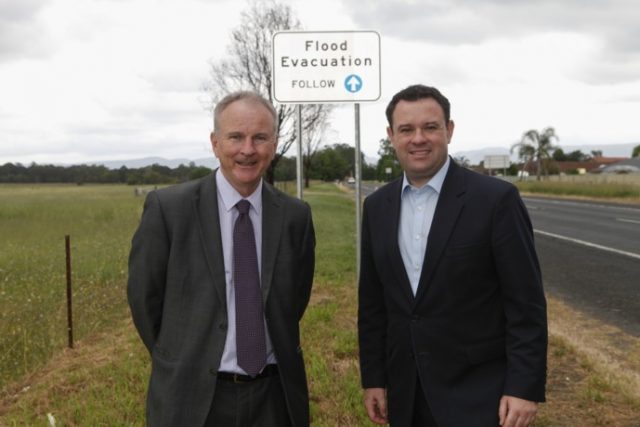 A network of 150 new signs have been installed across the Hawkesbury-Nepean Valley as part of a state-first regional approach to flood evacuation.
The signs, which will help guide residents along key flood evacuation routes and out of the floodplain, have been distributed throughout the Penrith, Hawkesbury, Hills and Blacktown council areas.
Penrith MP Stuart Ayres joined Riverstone MP Kevin Conolly to inspect the signage roll out, which marks a key part of the NSW Government's Hawkesbury-Nepean Valley Flood Risk Management Strategy.
Mr Ayres said the signage is a step in the right direction for flood safety in Penrith.
"Its unique geography and large existing population means the Hawkesbury-Nepean Valley has the highest single flood exposure in NSW, if not Australia," he said.
"If a flood similar to the 2011 Brisbane flood happened in the Hawkesbury-Nepean Valley now, around 64,000 people would need to evacuate."
Roads and Maritime Services has been working with the NSW State Emergency Services (SES), Infrastructure NSW and local councils to upgrade evacuation route signs and implement an education program to raise awareness and understanding of flood evacuation routes.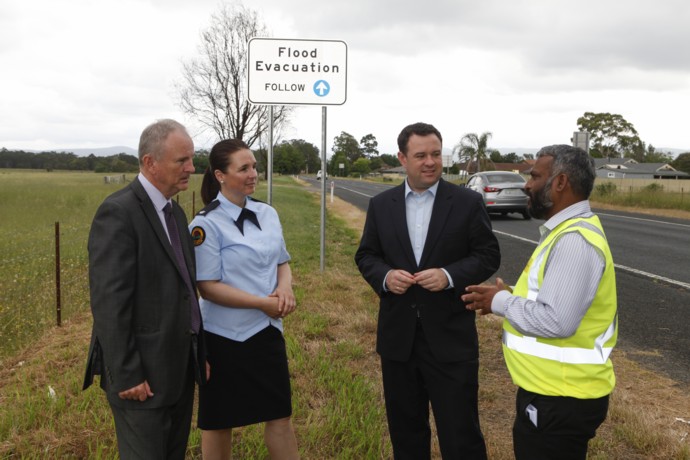 "If you live or work in the valley, we want you to know your flood risk and be prepared to evacuate when directed," Mr Ayres said.
"It's not a matter of 'if' another flood happens in this valley, it's really a matter of when."
Mr Conolly said the new signage will help emergency services evacuate local residents more safely when the next major flood comes.
"If a major flood hits the valley, the depth and extent of floodwaters will mean that for many people taking shelter in their home will simply not be an option," he said.
"Instead safe evacuation will rely on people using private vehicles to leave before the floodwaters arrive."
The design of the signage system has been tested on 100 local residents using driving simulators, while specific locations were selected in consultation with the NSW SES.
This marks another step in the State Government's plan to mitigate flood risk as they continue to push their $670 million plan to raise the Warragamba Dam wall.
A graduate of Western Sydney University, Nicola Barton is a news journalist with the Western Weekender, primarily covering crime and politics.