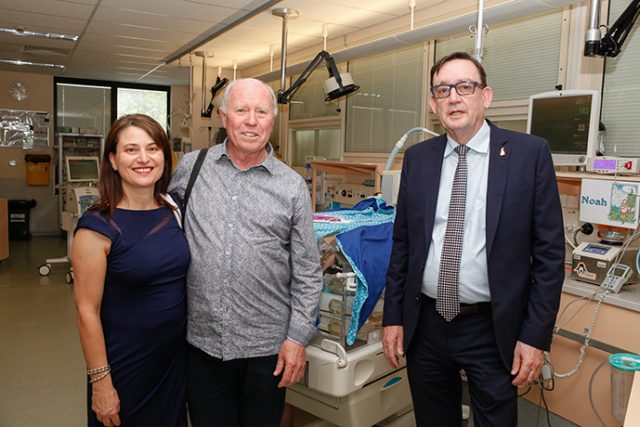 The Australian Women and Children's Research Foundation (OZWAC) is calling on the community for extra support, as it continues to fund breakthrough medical projects.
On Tuesday, OZWAC representatives met with their major sponsors at the Nepean Hospital Neonatal Intensive Care (NIC) Unit to discuss how new research has improved the health of women and children.
OZWAC provide initial research grants that allow doctors to get their ideas off the ground, if they receive good results they can then apply for Federal Government funding.
"We've been funding research at Nepean Hospital for over 20 years, during that time we have supplied equipment purely dedicated for research and the results from that has led to improved treatment," Deputy Chair of OZWAC, Diane Williams said.
"Nothing changes unless you understand what you need to change. Through research they identify how they can do things better."
As the only research foundation in the greater western Sydney region, OZWAC draws upon community support to raise funds in order to sponsor local doctors.
Dr Girish Deshpande, a Neonatal Paediatrician at Nepean Hospital, has received OZWAC funding since 2010.
Working in the NIC unit, he recognised that premature babies weren't getting enough nutrition, and that stress was affecting the quality of the mother's breast milk.
He obtained a piece of machinery used in the dairy industry and worked alongside engineers from the University of Sydney to calibrate it for human milk.
This machine, which is exclusive to Nepean Hospital, now allows for the milk to be adjusted to maximize nutrients.
Currently, OZWAC has grant applications for $250,000 but could only fund $60,000 of that this year which was thanks to a fundraiser held at Penrith Panthers and a generous donation from PremiAir Services.
"It's sad that we need to even put in for a place like this, you'd think the government would have all of this equipment paid for to make life better for everybody," Penrith Panthers CEO, Brian Fletcher said.
"We're a big organisation so it's our duty to do something."
For more information or to donate, visit www.ozwac.org.au.
A graduate of Western Sydney University, Nicola Barton is a news journalist with the Western Weekender, primarily covering crime and politics.