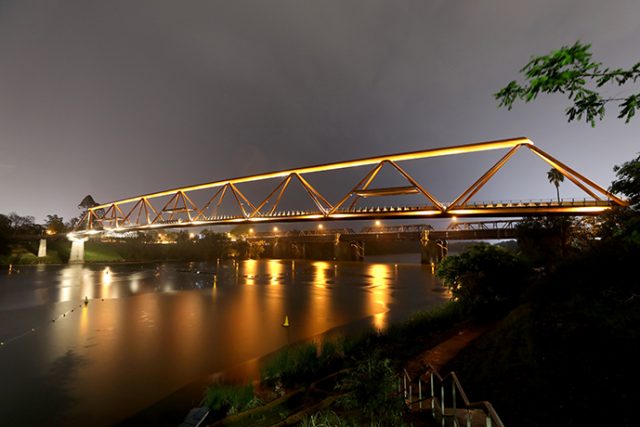 As final preparations for the opening of the new pedestrian and cyclist bridge across the Nepean River at Penrith are completed, the name of the new local landmark can now be revealed.
"I'm pleased to announce the new pedestrian and cyclist bridge across the Nepean River has been named 'Yandhai Nepean Crossing'," Penrith MP Stuart Ayres said.
"This name signifies the language of the Darug people who have strong traditional and historical ties to western Sydney and the Nepean River as well as providing a clear geographical location of the bridge."
The word 'Yandhai' used to describe the river, means walking in the path of past and present, and is reflective of story including the past use of the river by the Darug yura (person).
The word 'Nepean' identifies the location of this amazing bridge and 'Crossing' signifies the purpose of the bridge and the use of this location along the river as a significant crossing.
"There is an almost spiritual connection between Penrith residents and the Nepean River, so to be able to bring the history of two great cultures together in the name of this new bridge is very special," Mr Ayres said.
Roads and Maritime Services called for name suggestions in July this year ahead of the bridge opening.
"There was a strong response from the community, with more than 300 submissions received in less than a month," Mr Ayres said.
"It's not often the community gets the chance to suggest names for new bridges so this was definitely a once-in-a-lifetime opportunity for many people."
The community was encouraged to think about names which best described the bridge or had geographical, historical, community or local Aboriginal significance and they provided a wonderful range of suggestions.
A naming committee was formed to choose the future name of the bridge and they spent many hours deliberating on the best fit for this iconic piece of infrastructure.