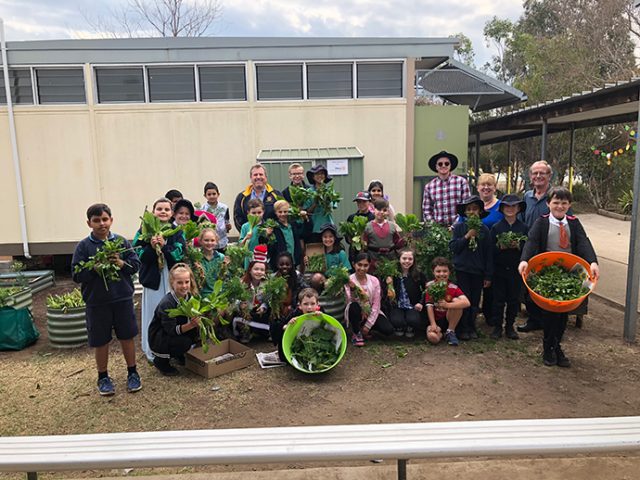 Children as young as eight are giving back to the homeless community with Glenmore Park Public School's special initiative.
Students in Years 4 and 5 have been growing a variety of vegetables, to donate to Penrith Community Kitchen.
28-year-old teacher Ryan Kirby first started the program last year following a conversation he had with his students.
"Initially, students were talking about the reasons why people were homeless and many of their opinions were at first negative. I wanted to establish something that I knew would change the students' perspective and give them a greater understanding of issues less fortunate people face," he said.
"The project has had a huge impact on the students' ability to see the importance in assisting others and how we should all look to help improve our local communities."
This year the students have grown lettuce, spinach, broccoli, snow peas, carrots, cauliflower, beetroot and a few different types of herbs.
Bunnings Warehouse has dedicated a large amount of time and resources to help assist in the program, providing soil, mulch and the majority of the veges.
Penrith Valley Rotary Club have also made several generous donations, which helped them obtain a shed and more gardening equipment.
"The students love that something they have done can have such a big impact in other people's lives," Mr Kirby said.
"It's amazing for them to see that someone of their age can have such a positive impact on their local community."
President of Penrith Community Kitchen, Bob Baines, said he is delighted to see young children getting involved in such a project.
"It makes children realise that whilst they are at home and nice and warm, there are people out there who are not quite as fortunate. We said to the children 'because of this, you're all volunteers' and they all got very excited about that," he said.
Last month the students had their first harvest of the year alongside representatives from the organisations involved.
Mr Kirby hopes to expand the program in the future.
A graduate of Western Sydney University, Nicola Barton is a news journalist with the Western Weekender, primarily covering crime and politics.