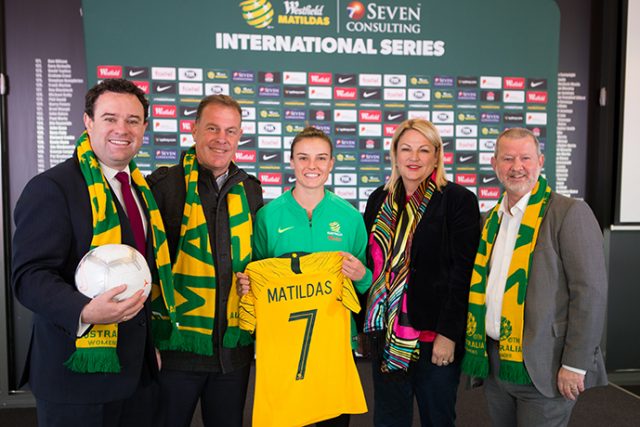 The Matildas will return to Penrith later this year to take on Chile at Panthers Stadium.
Penrith Mayor John Thain said the announcement is a major coup for the city and has again proven Penrith is the home of world class events in western Sydney.
"By securing the Westfield Matildas vs Chile match, Council has delivered on its commitment to providing headline events for locals to enjoy in their own backyard and cemented Penrith's reputation as the home of major events and sporting action in western Sydney," Cr Thain said.
"With its reputation for hosting internationally renowned events and with so much for visitors to see and do in Penrith, it's easy to see why Penrith was a natural choice to host this thrilling clash between two proud sporting nations."
Westfield Matildas Head Coach Alen Stajcic will be using this match, as well as another clash between Australia and Chile in Newcastle, as part of his team's preparation for the FIFA Women's World Cup which will be held in June next year in France.
"Chile are an emerging nation in international women's football and have qualified for next year's FIFA Women's World cup for the first time in their history," said Stajcic.
"They (Chile) had a fantastic Copa America this year and have showed a great level of technical proficiency, as we would expect from a proud South American footballing nation.
"For us to prepare for the FIFA Women's World Cup we need to play against a diverse range of opposition and Chile will be great challenge for us.
"The atmosphere at our matches in Penrith and Newcastle last year was amazing and I know that the players are looking forward to running out in front of large, vocal home crowds."
Penrith MP and NSW Sports Minister Stuart Ayres was also excited at the news that the Matildas would return to Penrith.
"The Matildas are without doubt one of the most popular and successful Australian sports teams and this is a fantastic opportunity for football fans in Penrith and Newcastle to see them in action on home soil," Mr Ayres said.
"Following on from the success of last year's international friendlies against Brazil, which saw the Penrith game sell out and a record crowd attend the fixture in Newcastle, we expect this series against Chile to be irresistible to fans.
"The matches also offer fans the opportunity to experience everything Penrith and Newcastle have to offer and I encourage visitors to book their tickets in advance, extend their stay and get out and explore the many wonderful venues and attractions on offer.
FFA Chief Executive Officer David Gallop said: "The past 18 months have seen the Westfield Matildas go from strength to strength, they have captured the imagination of all Australians and have inspired a new generation of footballers."
The game in Penrith will be played on November 10.
Tickets for the Westfield Matildas vs Chile are now available at matildas.footballaustralia.com.au/tickets.