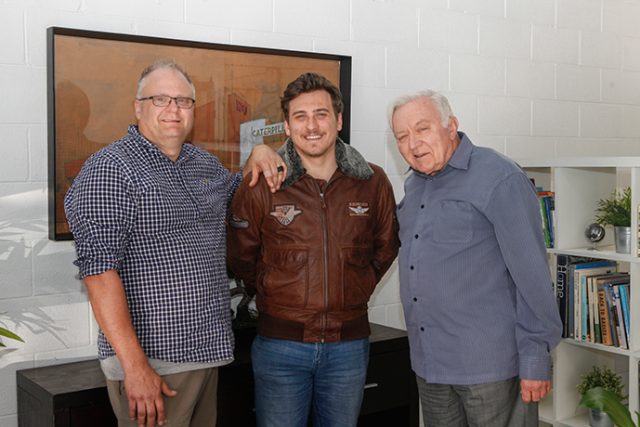 A local Emu Plains business is keeping things in the family with three generations working together to help create a better community.
Director of DDC Architecture + Interior Design, Geoff Ferris-Smith, admits when he opened the firm in 2012, it hadn't been intentional that it would turn into a family affair.
But with his 75-year-old father, Bill Ferris, in charge of accounting, his son, Jarrah Ferris-Smith, a specialist in their computer program, and his sister, Megan Gennari, the office secretary, Geoff said it was an opportunity they didn't take for granted.
"We feel it is a pretty nice thing to be able to happen because it can't work for everybody," he said.
"I guess it's just a commitment to family brand and values."
Drawing inspiration from his grandfather, who was an architect from the 1930s to '60s, as well as other family members, Geoff said working in architecture was his calling.
Building up the business to be one of the biggest firms in western Sydney, Geoff said they were proud to be investing in Penrith, using their combined experiences and state-of-the-art technology.
"My grandfather would be fascinated but he wouldn't know what we were doing in many regards because we don't use pens, paper, rulers or set squares. That is all gone now and everything we do is virtual reality," he said.
And while working with your family can go either of two ways, Geoff said they hadn't run into any trouble… yet.
"My dad always says that his dad talked him out of being an architect and he holds to that, but I know that he is very proud to see his son and daughter be able to work closely together, and he gets a huge amount of joy working with his grandson," he said.
"It is rewarding to be able to work with them and also still enjoy a personal relationship that doesn't get affected by working. That is something we are proud of, we can all work together all week and still have a normal father-son relationship."
Lauren Suttie is the Weekender's General & Community News journalist.