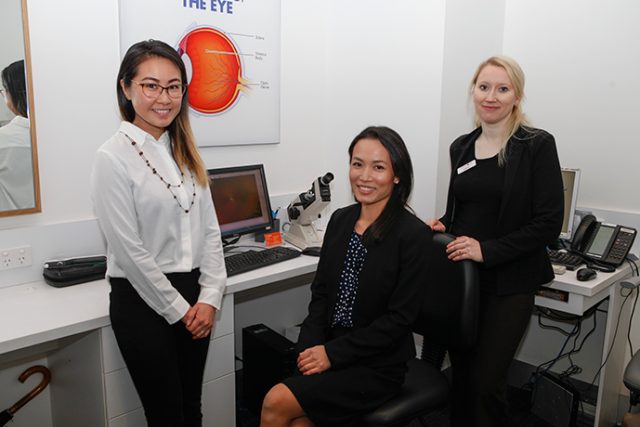 The saying goes that an eye is the window to the soul but, for local optometrists, an eye is also a window to detecting serious diseases such as diabetes.
With more than half a million undiagnosed diabetics in Australia, OPSM Penrith is urging locals to get their eyes tested ahead of National Diabetes Awareness Week.
Managing Optometrist at OPSM Penrith, Trinh Nguyen, said that most people weren't aware of the link between their eyesight and Australia's fastest growing chronic illness.
"Not many people are aware that diabetes can actually affect your vision and you can lose eyesight from damage to the back of your eye," she said.
"Having your eyes tested is very important to your health, not just for your eye health, but for your general health as well."
With less obvious symptoms such as thirst, hunger and headaches, Ms Nguyen said the first signs of diabetes were often picked up during an eye examination using an ultra-wide digital retinal camera that shows a 200-degree view of a retina.
"While the best way to detect diabetes is with a blood test, people can still be diagnosed through the eye test," Ms Nguyen said.
"It only takes a couple of minutes and you get the results straight away without any side effects."
Running from July 8 to 14, the theme for this year's National Diabetes Week – 'It's About Time' – will aim to raise awareness about the importance of early detection and treatment.
And with diabetes the leading cause of blindness in adults, Ms Nguyen said it was important to take early precautions to protect your vision.
"It's always good to be proactive, not only about your health, but your eye health as well because sight is so important," she said.
"Sometimes we take vision for granted and just don't realise, so it's good to check these things before it becomes a problem."
While awareness of the existence of diabetes is relatively high, Australians are often unaware of the specifics of the disease.
Over 600 Australians end up in hospitals each year after falling sick because of undiagnosed Type 1 diabetes, making early detection very important.
Lauren Suttie is the Weekender's General & Community News journalist.