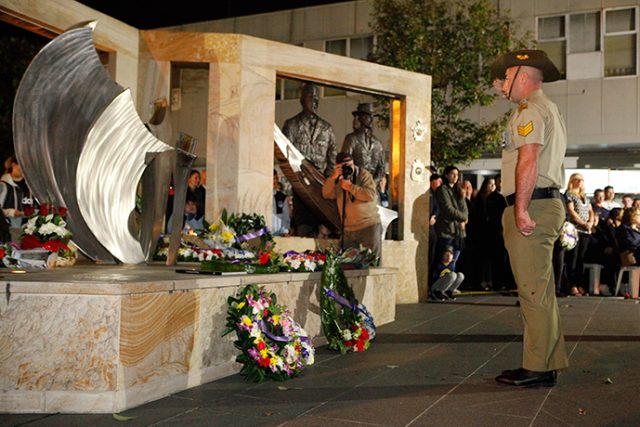 Locals will have the opportunity to pause and reflect on the service and sacrifice of those who have fought for the country this ANZAC Day.
DAWN SERVICE TIMES
Penrith: 5am at Memory Park (March from Penrith RSL at 4.30am)
St Marys: 5am at St Marys RSL
With the day holding a different significance for many locals, Secretary of St Marys RSL Sub-branch, Tony Fryer, said for him it was about reflecting on his own past, as well as reflecting on where Australia might be now had it not been for those people who made the ultimate sacrifice.
"It's an opportunity to catch up with people who I operated with in the military and people I can relate to better than most, as well as reflect and remember old mates that have since gone," he said.
With an estimation of 6000 people attending the ANZAC services at St Marys over the last few years, organisers are again preparing for a big turnout. Mr Fryer said both St Marys services would have a special element this year.
"This Sunday, just after the march arrives in Victoria Park, there will be a collection of a small amount of soil by the Mayor and [Londonderry MP] Prue Car that will be sent into the ANZAC Memorial in Hyde Park," he said.
"It will join approximately 1700 other samples, which represents soil from the locations where the men joined up to fight in the war."
The Dawn Service at St Marys on Wednesday will include a strong female presence this year, with current service or ex-service Sub-branch female members playing the key role in running the service to show support for the 'By the Left' campaign, which encourages female veterans to raise awareness of their strong contribution to the Australian Defence Force.
With this year marking the end of the ANZAC Centenary, locals have been invited to join in services held by the Penrith RSL Sub-branch and St Marys RSL Sub-branch.
At Penrith, the ANZAC Sunday Service will be held on Sunday, April 22, assembling at 2.30pm on Castlereagh Street, where the march will start and end with a service at Memory Park.
The ANZAC Dawn Service at Penrith will be at Memory Park on April 25, assembling at 4.30am for a silent march, with the service starting at 5am.
In St Marys, the Sunday service will assemble at Coachmans Park at 2pm, with a service commencing at Victoria Park following the march around 2.30pm.
The annual Dawn Service on Wednesday, April 25 will commence at 5am at St Marys RSL Club.
Both Sub-branches are inviting locals back to their clubs for refreshments and a game of two-up after the formalities.
Other local venues that will be offering two-up and other activities on Wednesday include The Australian Arms, The Blue Cattle Dog, Jamison Hotel, O'Donoghues and St Marys Band Club. More information on these events can be found online.
Lauren Suttie is the Weekender's General & Community News journalist.