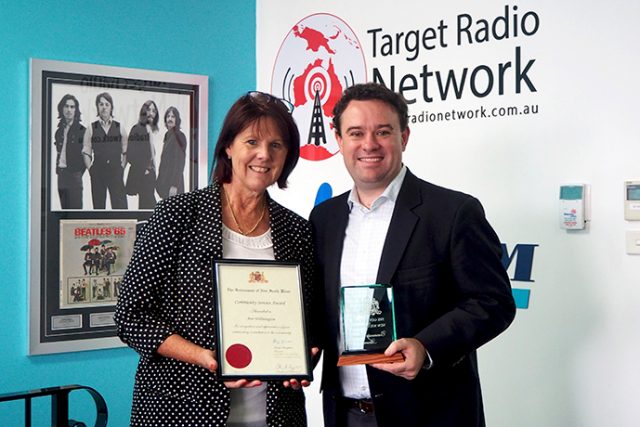 With the help of Vintage FM staff, Member for Penrith Stuart Ayres left Ann Willmington completely stunned with a Community Service Award for her dedication in raising funds and awareness to find a cure for brain cancer.
Earlier today, an unsuspecting Ms Willmington was left speechless when Mr Ayres presented her with the award.
"Founder of the annual Music for Life Ball, Ann's unwavering dedication to raise funds to find a cure for this terrible disease is exemplary," he said.
In 2008, Ms Willmington was diagnosed with a brain tumor and told she had about 18 months to live.
Being the determined woman she is, she decided to battle the disease under the care of Dr Charlie Teo which lead her to undergo numerous surgeries, chemotherapy and radiation treatments.
The first Music for Life Ball was held in 2011, and since then, over $400,000 has been raised to donate to the Cure Brain Cancer Foundation and the Charlie Teo Foundation.
"Unfortunately, brain cancer survival rates are low and treatment is difficult because it affects our most vital organ," Mr Ayres said.
"The funds raised go towards finding a cure and to assist in developing new treatments."
Knowing she wouldn't turn up to the office if she knew about the award in advance, Vintage FM organised a cover story ensuring she was in the office to leave the humble Ms Willmington completely surprised.
"You have been a champion in the fight against cancer in this community," Mr Ayres said.
"Music for Life is a permanent fixture on the Penrith calendar, and not only does it raise money but it allows people to understand a lot more about brain cancer.
"The people in and around our community need to know that the fight can't stop until it's completely eradicated.
"This is a big thank you for all the work that you've done."
The Community Service Award is a way for the NSW Government to acknowledge the inspiring qualities of members within the local community for their service and achievements.
While at a loss for words with her new award in hand, Ms Willmington reminded everyone to keep Saturday, October 27 free for the 2018 Music for Life Ball.
Emily Newton is the Weekender's police and political reporter. Emily is also the Weekender's Senior Journalist.