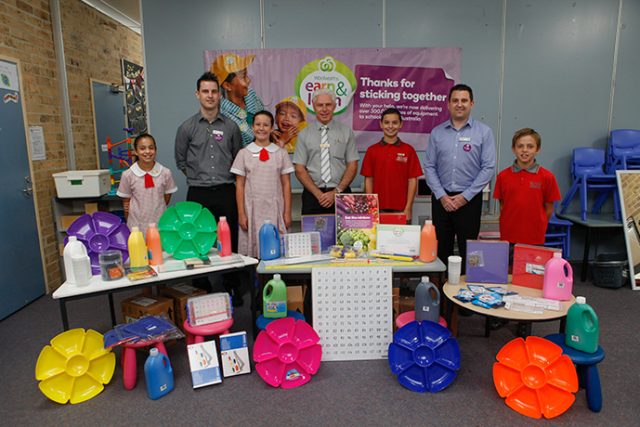 Aussie schools and early learning centres are set to receive more than 300,000 vital education resources over the next few weeks, all thanks to the Woolworths 'Earn and Learn' program.
Since starting in 2011, the program has delivered over $50 million in educational resources including sporting, mathematics, arts, science and technology equipment, to schools all over the country.
One local school to benefit from the program is The Lakes Christian College, which was recently presented with a range of mathematical and art supplies.
Primary Coordinator at The Lakes Christian College, Rosalie Bell, said the equipment will make a huge difference to the school, which has seen a steady increase in enrolments over the past few years.
"Our school has expanded increasingly with the growth in population in the area and we've been needing more equipment, so it was very timely that we were able to do this," she said.
"We've got it all on display, so it'll be great when we are able to take the children and the parents to have a look as they will be able to see that it was a worthwhile venture."
While Information and Communications Technology (ICT) was the highest resource to be redeemed across most states, it was Mathematics that NSW selected as their favourite equipment to receive.
Woolworths NSW Group Manager Brett Murray said that no matter what equipment was selected, it would all count in supporting future generations in their academic life.
"It's an important program because it allows schools to obtain vital, additional educational equipment which, in turn, helps students with their academic endeavours," he said.
Delivering over 300,000 pieces of educational equipment to over 15,000 schools and Early Learning Centres this year, Ms Bell said it was great to see Woolworths supporting over three million of Australia's pupils.
"It's wonderful that Woolworths invest in children's education to the extent that they do and allow us just to purchase anything we feel we need at the time," she said.
Local Woolworths Operations Manager, Imran Yousaf said: "Thank you to everyone in the local community for your efforts in collecting stickers as part of the program."
Lauren Suttie is the Weekender's General & Community News journalist.