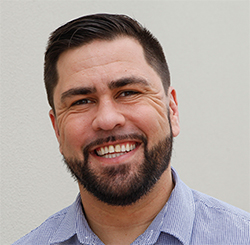 There's no better way to kick off a new season than with a good old fashioned local derby. I don't care what sport you play, a local derby always brings out a player's best.
One of the most memorable local derbies of my career was when Penrith played the Eels at Parramatta Stadium a few years ago. The match went right down to the wire and fortunately we got the win in the final seconds after Bryce Cartwright scored off one of my kicks. I'll never forget that game; it was one of the highlights of my career.
For Penrith, this Sunday's blockbuster against the Eels at Panthers Stadium is going to be extremely tough. Because it's the first game of the year there will be some rust, so it will be important for both teams to come out and complete sets early on.
In big games like that, it can sometimes catch you off guard if you are not ready for it straight away.
It will also be important for Penrith to get off to a positive start, so all that pre-season noise surrounding the future of coach Anthony Griffin can go away.
It's funny how last pre-season they were title favourites and this pre-season the club apparently is in turmoil.
As a player, Round 1 is what you've been training for all pre-season. You start to get itchy feet and it sometimes can drain you ahead of what's already a big match in a local derby.
The key for Penrith for this weekend is concentrating on the game at hand, staying away from the limelight and putting all those off-season rumours about the coach to bed with a good performance.
Even though the punters aren't tipping much from the Panthers this year, they are definite title contenders in my mind. In fact, there are only six teams that have a premiership window open and Penrith is definitely one of them.
The arrival of two-time Premiership winner James Maloney will certainly boost their chances. Maloney is the key to this Penrith side and I think he unlocks and solves so many of their problems from last year in terms of game management.
He will also be able to help fellow half Nathan Cleary in those tight spots and allow him to continue to play his football.
I'm thrilled the season is back. Bring on the footy!
Jamie Soward is proudly brought to you by Lower Mountains Air Conditioning