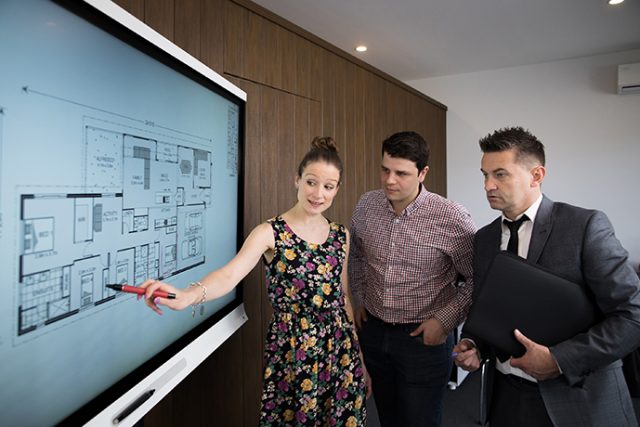 New technology that allows people wanting to build a home to virtually walk through home designs and customise floor plans on screen is helping to ease the stress associated with building a new home.
With research revealing that stress and unexpected costs were the primary barriers to building a new home, the new virtual home design tours aim to streamline the design process and allow people to visualise what would be as close to the actual finish and build quality as possible.
G.J. Gardner Sydney West owner David Hogan said the innovative new Virtual Display Village experience was an Australian first and would be exclusively available at their local Penrith office, as part of a national roll out across the country.
"This technology allows clients to walk through any home design they choose, offering them the opportunity to experience more than 24 display homes, not just the one we selected to build in the local area," he said.
"It will also make the planning process a lot quicker by making it easier to amend plans in real time, ready for a draftsman to finalise the details."
Mr Hogan said it was disappointing research showed people perceived the building process as stressful.
"If executed well, it should be a positive experience for all involved," he said.
The virtual home experience was created by architect Peter Mannion from Synergy Designs, and Mr Hogan said the virtual tours take home design planning to the next level, giving people looking to build a new home a hyper realistic understanding of how the home flows and each room works to create a great living space.
"Changing a home design mid project is the number one reason for budget variations so the fact our clients can now take a virtual tour of multiple house designs and customise floor plans live on screen before they commit will really help minimise this frustration," he said.
"It's is a real game changer for new home builders, speeding up the planning process and giving them certainty about their design choices."
The virtual tours are taken on 65 inch smart boards and once the tour is finished, you can use a marker on the screen to modify the floor plan. The technology also allows the experience to be shared remotely, so that two parties can mark up the floor plan at the same time from anywhere in the world.
With over 60 per cent of those surveyed saying they believed online walk-throughs would be a useful planning tool, the Virtual Display Village technology provides an engaging way for clients and builders to work through the design process and see their ideas come to life instantly.
"The technology allows us to share house designs with our clients in a meaningful way," Mr Hogan said.
"The tours are extremely realistic and people feel they are in a real display home.
"Display homes are still the number one source of inspiration but this is going to be a close second from now on."
Mr Hogan said people could come and check out the technology at their office to give people a preview of what the technology can achieve.
G.J. Gardner Homes is located at 8/37 York Road, Jamisontown.