For some local kids, going to school without any food for the day is a reality that's all too common.
For the past two years, local charity Christ Mission Possible has been helping to reduce the number of kids going without, one sandwich at a time.
Starting off with just four schools in 2016, the charity's Brown Paper Bag program delivered 40 sandwiches to kids in need of a nutritional meal.
Since then, the program has grown to cover more than 22 schools and now delivers up to 2,000 sandwiches a week.
Food Solutions Manager for Christ Mission Possible, Albert Tevita, said it was rewarding to know they were making a difference in the community.
"We told the guys who were making it to write a positive message on the bag and the kids just started writing back to us saying they enjoyed the sandwich or even just drew a smiley face and that's what it's all about," he said.
"We don't get to see the kids, but we know that they're out there getting a nutritious lunch for the day."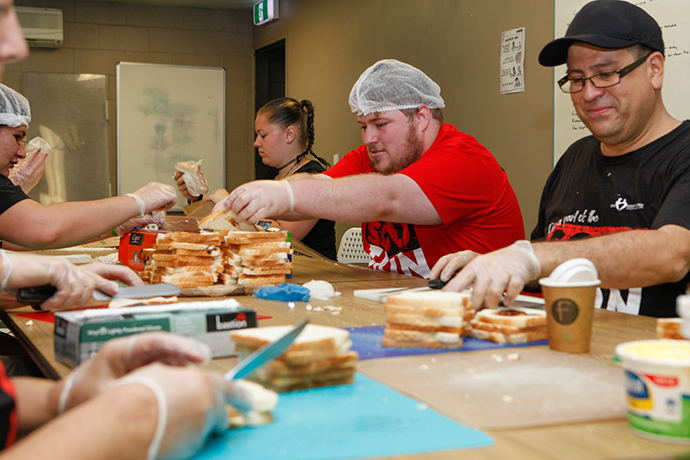 With a team made up of 10 volunteers, as well as a delivery driver, the group puts together the lunch bags every morning, before delivering it to schools from Penrith all the way down to Mt Druitt. Relying on donations, Mr Tevita said the group were thankful for the community's generosity.
"I think the blessing about it all is that the community got involved," Mr Tevita said.
"I've got the local Coles who provide 12 loaves of bread in the morning, sources provide juice and Kellogg's provide the LCMs bars."
Seeking to make the lunches even more nutritional, the charity has put out a call for donations of fresh fruit.
"Every now and again we get some good fruits, but we are looking for a fruits supplier for the lunches," Mr Tevita said.
To help out, contact 1300 HELP 2U.
Lauren Suttie is the Weekender's General & Community News journalist.