EXCLUSIVE
Local parents will soon feel more comfortable sending their daughters out on a footy field with the introduction of girls-only competitions.
In what's understood to be a first for the game, Penrith Juniors will provide a full pathway for girls by launching competitions from U6s right through to U18s.
Currently, primary school-aged girls play rugby league alongside and against boys – some twice their size – putting fear into every parent watching from the sideline.
Local mum and Penrith Juniors Administrator Krissandra Stimpson said she's always concerned every time her young daughter plays against boys.
"I want my daughter, who plays in U6s, to have an equal playing field. I want her to be able to go out there and not be intimidated by a really big boy that's going to smash her," she told the Weekender.
"So many of my friends won't let their daughters play because they are scared of them getting hurt."
NSWRL Club and Competitions Coordinator Zoe Hamilton said the girls-only competitions are about inclusiveness and providing girls a full pathway.
"This is completely unique to Penrith; no one else has done this. We are the first district that will provide a full pathway for girls," she said.
"At the moment, girls play with boys before they transition to girls-only teams at the age of 14."
Hamilton said the league will not prevent girls from playing in boys teams if they choose to, but rather offer an alternative for parents and kids that are concerned about safety.
"This is about getting new kids to the game, it's about starting them young and giving them the opportunity," she said.
"700 girls from U14 to U18 currently play in the Penrith District. We know that the base is here in Penrith, it's just building it."
Currently, a number of junior clubs have shown strong interest in forming girls-only teams, with an U12s competition "definitely" set to go ahead this year.
"If not enough girls sign up for the other age divisions this season, we'll run fun clinics and games every weekend so girls are still learning and getting involved," Stimpson said.
This Sunday, March 4 at Whalan Reserve, Penrith Juniors and the NSWRL will launch the upcoming girls-only competitions with a Come and Try Clinic and games from 11am.
A number of junior league clubs will be at this weekend's launch to provide more information and to register kids.
The girls-only competitions are scheduled to get underway on the weekend of April 7 and 8.
For more information, contact your nearest junior league club or email Zoe Hamilton at [email protected].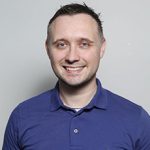 Nathan Taylor is the Weekender's Deputy Editor and Senior Sports Writer. He also compiles the weekly Chatter on the Box TV column. Nathan is an award-winning journalist, who has worked at the Weekender for nearly a decade.