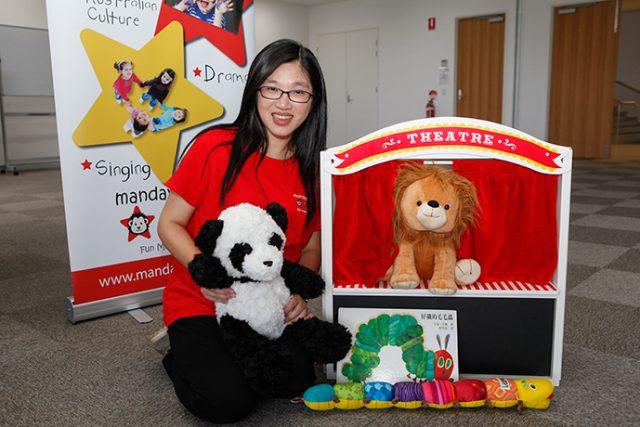 Local kids can connect with a culture over 9,000km away through a playgroup that is delivered almost entirely in Chinese.
Mandarin Stars, a language program for children aged from just one up to 12-years-old, has just opened in Penrith and Blaxland to offer an effective method for teaching local kids Mandarin.
Business owner of the Penrith Mandarin Stars franchise Michelle Wang says the focus on cultural as well as linguistic education allows children to soak up the language in a unique environment.
"We are very excited to offer the Mandarin Stars program in the Penrith and Blue Mountains area," she said.
"There has been a lot of demand in the area for Mandarin lessons for children and so we know that this is going to get a very warm reception from local parents and children."
Created by experienced educators and bilingual teaching staff, the feature of Mandarin immersion techniques help to develop confidence, appreciation and familiarity while deepening a global cultural understanding.
"Parents can be assured that their children will get the best exposure and training in Mandarin possible," Ms Wang said.
"I love teaching children and to see them learn. The creativity, honesty and endless energy means I consistently love my job.
"I've been a Mandarin teacher for six years and taught all different levels of Mandarin.
"The class is for people with no Chinese background, or maybe just a little bit of Chinese background who might not speak Mandarin at home, or maybe they're just learning now."
For pre-schoolers, children of all nationalities participate in a structured playgroup environment with music, singing, dramatic play, art and craft and storytelling, all in Mandarin.
"We adapt the Australian way of teaching to the children," Ms Wang said.
"We have a 'free play' time where they get to choose their educational toys and we interact with them and encourage mandarin with them."
Classes are held on Saturday afternoons at the Penrith Baptist Church on Morello Terrace in Caddens and on Saturday mornings at Blaxland Community Centre.
For more information visit www.mandarinstars.com.au.