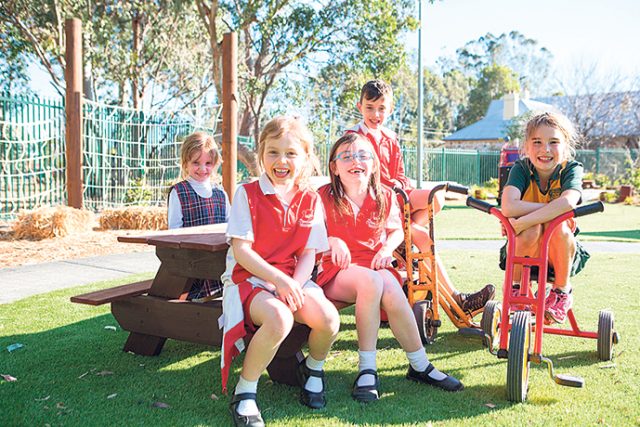 An innovative childcare centre that incorporates the interests of primary students to allow them to explore their passions free from boredom is coming to Emu Plains.
Penrith Council's brand new childcare centre, Emu Village OSH will be officially opened this Sunday, January 21.
To mark the occasion, Council is celebrating with a free family open day on the village green for locals to experience what Penrith Mayor John Thain describes as "not an ordinary childcare facility".
"Not only does Emu Village have a brand new, state-of-the-art building, it also has a top notch play area that was designed for children, by children," he said.
"Like all Council childcare centres, Emu Village has exceptional staff who are all highly qualified and passionate about education.
"And of course, it offers our signature all-inclusive fee so it's incredibly affordable for families."
Cr Thain said he was impressed with what is a new approach to care.
"What really sets Emu Village apart from other centres in the area is the innovative before and after school care program which includes cooking classes, art classes, and even an afternoon bike club," he said.
North Ward Councillor Marcus Cornish has praised the innovative childcare centre following years of Council planning.
"I think it is a fantastic outcome for the children and parents of the Emu Plains area after being crammed in the old school building for so many years," he said.
"Before and after school care is essential for parents to be able to go to work and know that their children are taken care of."
The festivities will run from 10am to 2pm on Sunday at Lawson Street, Emu Plains, featuring a free BBQ, face painting, jumping castle, rock climbing wall and photobooth.
There will be music, a magician, Council's Rooby Roo and the ability to tour the facility and meet the team.
Emu Village currently has places available in the before and after school care program for kids aged five to 12 years.
The outside school hours childcare centre also offers vacation care.
Call 4732 7844 now to enrol your child or to find out more about childcare in the area, visit penrithcity.nsw.gov.au/childcare.
Emily Newton is the Weekender's police and political reporter. Emily is also the Weekender's Senior Journalist.