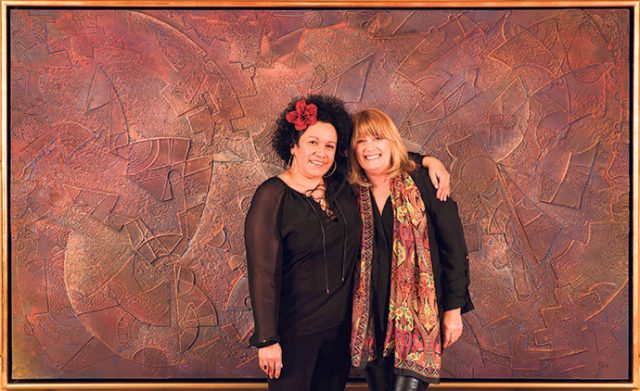 It's been 45 years since its release, yet Carole King's second album 'Tapestry' is still one of the greatest selling records in history, having sold over 25 million copies worldwide.
Whether it's the simple, honest feeling that each song brings or the level of intimacy King reveals, Australian singer Vika Bull said that the album is still able to evoke something in those who listen to it.
"I walked into a shop the other day and the young girl had it playing and I'm like well there you go and she said to me 'I love this album so much'," she said.
"I think the message is still there, it's still the same and it hasn't changed from 1971 till now.
"She's written songs from the heart that people could relate to then, and can still relate to now."
Paying homage to King, Vika and Debra Bryne have spent the last two years travelling around Australia, playing to huge audiences, in what could be described as a celebration of their appreciation and love for her work.
"It's a joyous thing being able to sing beautiful songs and tell great stories and entertain people, it's really good fun," Vika said.
"We talk more about her influence on us and why we love the songs that she wrote."
Despite spending a decade prior to its release writing hits for other artists, 'Tapestry' was the album that pushed King into the spotlight.
And like most, Vika still remembers the moment she discovered just how incredibly talented King really was.
"'Natural Woman' is probably one of my favourite songs because when I first heard it, I heard Aretha sing it and I fell in love with it," she said.
"I had no idea that Carole had written that song but then I found out and then I heard all of these other Carole King songs and it was like holy moley who is this woman?"
Like King herself, Vika has spent a few years of her career supporting other artists, but after three decades in the industry, she's at the height of her career and is as humble as ever.
"There's thousands of great singers in this country, I'm just lucky that I am still working at my age, 51," she said.
'Tapestry: The Songs of Carole King' will be on at The Joan on Friday, February 9 at 7.30pm. Tickets start from $75 for concession. For more information, visit www.thejoan.com.au or call 4723 7600.
Lauren Suttie is the Weekender's General & Community News journalist.