The Weekender team has brainstormed the top 42 ways to keep cool as temperatures soar above 40 degrees today and again right throughout the weekend…
1. Spend a few hours at the Penrith Ice Palace. There's no colder place in Penrith – you might even need to bring a jumper!
2. Buy an old school board game and have an inside day with the kids. Winner of each game gets an ice block.
3. Get the hose or sprinkler out and encourage a water fight amongst the kids!
4. Become an Uber driver, and get paid to drive around all day in air conditioned comfort.
5. Head over to Nepean Aquatic Centre and swim a few laps or just enjoy a splash around with the kids.
6. Host a pool party. Post photos of said party on Instagram to make others jealous.
7. Enjoy the air conditioned comfort of Hoyts Cinemas in Penrith and catch a movie. We can recommend 'All The Money in the World', 'The Post' and 'Coco' if you have the kids in tow. Ring your bank manager first if you plan to buy popcorn.
8. Take the family on a trip to the Blue Mountains – it'll be almost 10 degrees cooler in Katoomba today and tomorrow.
9. Throw some adventure into the hot weather by experiencing Penrith Whitewater Stadium.
10. Enjoy a family day out at AMF Bowling and grab some frozen yogurt afterwards.
11. Head to Wet'n'Wild Sydney and slide your way into cool conditions.
12. Head down to the Penrith Homemaker Centre and plan a makeover for that room you know needs a new look. Take it slowly – the more you're in the air conditioning, the better!
13. Convince the kids to wash the family cars (in the shade). A fun water fight is almost certain to break out (it'll keep the kids nice and cool and entertained, plus your car will be looking great!)
14. Put a sprinkler under the trampoline and watch the fun ensue!
15. If you don't have a pool, bake a cake or buy a slab of beer and bribe your neighbour to use theirs.
16. Ice chips make the perfect snack that keeps you cool. Keep them coming throughout the weekend!
17. Head down to the Werrington Lakes Playground and let the kids cool down while having fun in the water.
18. If you're a risk taker, jump on the Sydney Trains network and keep your fingers crossed for an air conditioned service that runs on time.
19. Put tomorrow's undies in the freezer so you start your day with a nice cool shock.
20. Head to the beach. To escape the Sydney traffic and parking woes, consider Wollongong for a great family day trip.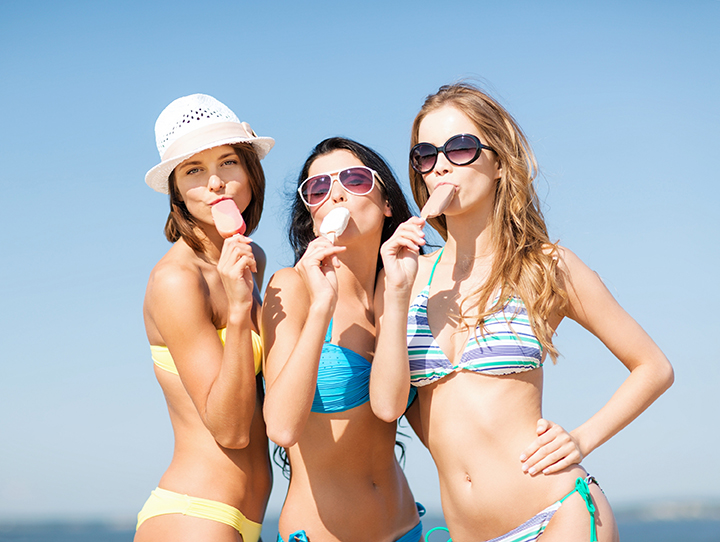 21. Clean out your sock draw. Usually just a lame excuse, it's the perfect low-energy task for a hot day.
22. Buy a packet of Zooper Doopers. The sugar level doesn't count on hot days, does it?
23. Put some cold beers in the fridge and settle in to watch the Australia v England ODI from the Gabba today (Friday).
24. Drive around the block constantly with the car air conditioner running. Take a photo of your car temperature gauge for social media.
25. Listen to 'Let it Snow' on repeat all day. Wishful thinking.
26. Sit back, close your eyes and picture snow. Research has shown that the body reacts to these daydreams, reducing its overall temperature.
27. Head into Westfield Penrith for a spot of shopping. There's still some great bargains to be found post-Christmas, all in air conditioned comfort.
28. Take the family to Cold Rock on High Street for an ice cold treat. Let your imagination run wild with some fun combinations.
29. Catch up on TV shows you might have missed by having a Netflix binge session with the air conditioner blasting inside. Check out the new David Letterman show, or 'House Of Cards' for some dark political drama. 'Shot in the Dark' is a hidden gem too, or if you're looking for something a little lighter check out Jerry Seinfeld's 'Comedians in Cars Getting Coffee'.
30. Get the whole family involved in a DIY cocktail and mocktail making day.
31. Take the kids to St Marys Village for the Back to School Craft workshop running from 11am-2pm today (Friday).
32. Fill up some water bottles and put them in the freezer. Surround yourself with them in bed.
33. Buy an ice vest. A quick Google search will send you in the right direction.
34. If you're home alone or just with your significant other, instigate Naked Fridays.
35. Use a wet towel as a blanket and have an afternoon nap on the couch.
36. Park yourself inside Panthers for lunch and dinner plus enjoy the bingo, housie and raffles on Friday and live music on Saturday. Find a comfy seat and read the latest edition of the Weekender.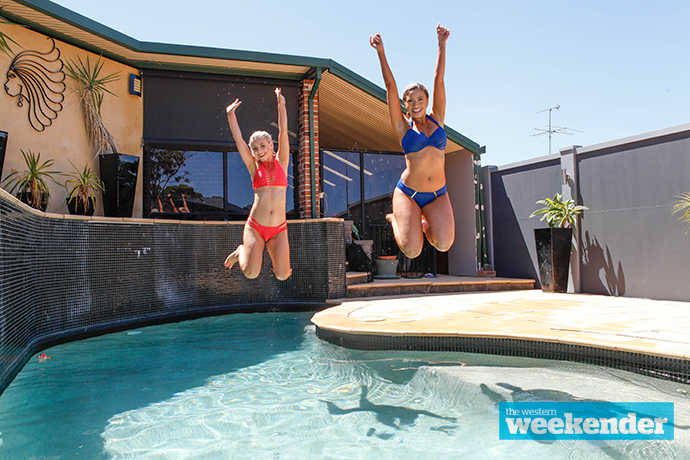 37. Create a DIY ice bath for you, the kids and your pets.
38. Download the 'bed time fan' app on your iPhone.
39. Suggest a game of Strip Poker (adults only!)
40. Buy a Chillow. If you don't know what it is, get Googling! You won't regret it.
41. Have a cold shower.
42. Turn back the clock and create a DIY slip and slide. Keep safety in mind but involve the kids – it's a fun project with very cool results. Get ready for the neighbours to join in.