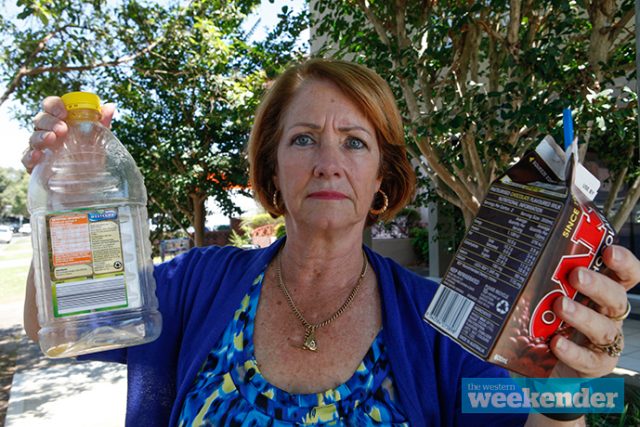 Labelled a "debacle" by Penrith Councillors, the roll out of the NSW container deposit scheme is creating more problems than it solves.
A report presented to Penrith Council on Monday night explored a number of the scheme's shortfalls.
"In Penrith, no Reverse Vending Machines have been installed, with currently five Over-The-Counter Collection locations listed on the Return and Earn website, despite only three active at this time," the report read.
Major issues in the report include people bringing in crushed containers that can't be accepted, waiting periods to book a collection, training yet to be provided to employees at some collection points, and problems of cashflow on retailers as patrons of the scheme request cash refunds.
Councillor Karen McKeown was quick to add to the growing list of problems.
"Westfield was supposed to be one of the mandatory drop off points," she told the Weekender.
"The problem is, the receptacle itself has to go on a ground floor basement level because of the design.
"But the trucks that they have can't actually fit. It wasn't well thought out and it wasn't well planned."
Cr McKeown also said the scheme's launch was previously pushed back due to a lack of planning implementation.
"They had to push it back six months because no one was ready for it," the Labor candidate for Penrith said.
"It's supposed to be of great community benefit, but as yet all I've heard is problems."
The report presented at Council's Policy Review Meeting on December 11 also outlined associated cost rises being passed on to consumers.
Eligible containers are subject to additional costs ranging from 11 cents to 14 cents a container, with some residents paying up to a 25 cent increase, causing a clearly frustrated Cr McKeown to say residents are "paying more for the privilege" of an inadequate system.
Neighbouring councils with Reverse Vending Machines are also experiencing ineligible containers being left beside the machines as litter.
This prompted Councillor Greg Davies to ask who is responsible for maintaining an overflow of litter and insurance, if someone were to injure themselves.
"This is 1980s planning," Cr Davies said.
"Who is responsible for cleaning up the mess?
"Who is responsible if someone walks past and cuts their foot to pieces?"
Councillor Marcus Cornish agreed, saying the scheme was poorly executed and has created more problems for residents.
"Council are going to be the ones who have to clean up the mess," he said.
"It's been rolled out, but it's just not ready."
Emily Newton is the Weekender's police and political reporter. Emily is also the Weekender's Senior Journalist.