Aussie Dan Wilson's retirement plan went like clockwork, winning the IRONMAN 70.3 Asia Pacific Championship title in Penrith today, setting a new course record and going back to back at IRONMAN 70.3 Western Sydney.
And after a year riddled with complications from surgery, Melissa Hauschildt finally got the result she has been looking for, adding another championship title to her impressive resume.
Perfect race conditions, a non wetsuit swim and an intense air of anticipation greeted the more than 1200 athletes who had gathered at the Sydney International Regatta Centre for the Australian debut of the IRONMAN 70.3 Asia Pacific Championship Western Sydney.
The virtual who's who of IRONMAN 70.3 racing was at Penrith and the quality of the pro fields resembled a 'mini world championship'. With no clear pre-race favourites pundits were left to wonder the multiple combinations of how the morning would roll out.
Olympian Aaron Royle was intent on making his mark early in his IRONMAN 70.3 debut exiting the 1.9km swim 39 seconds clear of defending champion Dan Wilson with the two Sams, Appleton and Betten hot on Wilson's heels. Onto the bike Royle was hunted down by a marauding pack of Appleton, Montgomery, Wilson and former world champs Michael Raelert (DEU) and Tim Reed, and Joe Gambles keen to keep their options open and the race under control.
At half distance Jake Montgomery assumed the lead while the pressure was on, little else changed and even at 60km the pack of five, Montgomery, Appleton, Royle, Raelert and Wilson were locked into an intense battle. The chasers Reed, Currie, Gambles and Betten were 40 second down but made up time over the final 30km to make it a group of nine athletes all in touch at the bike to run transition.
Fans were in for one of the greatest runs in recent memory with nine primed athletes ready to hurt over the fast 21km run course. At 6km defending champ Dan Wilson, in his final race as professional, took control but Currie, Reed, Appleton and Royle loomed large.
Half distance on the run Wilson was on track to break his own course record but there was enormous pressure from the flying Kiwi Currie only seven seconds down and with Tim Reed a further 12 seconds in arrears. At 14km the elastic had started to stretch with Wilson increasing his lead to 37 seconds over Currie and Reed only 17 second away third. Wilson looking good to go back to back, break his own record and retire on top.
Crossing in 3:42:11 an elated Wilson smashed his own 70.3 Western Sydney record by more than three minutes and immediately kick started his retirement party.
"I really wanted that one, being my last race and an Asia Pacific Championship. I really wanted the win and with such a stellar field and such tough competition makes it all that sweeter. I wasn't thinking too much about the race record it was all about trying to win the race but I knew I was in good shape. I had the ideal preparation sharpening up recently with a couple of races. I knew I was travelling okay so it was a matter of keeping my fingers crossed," Wilson said.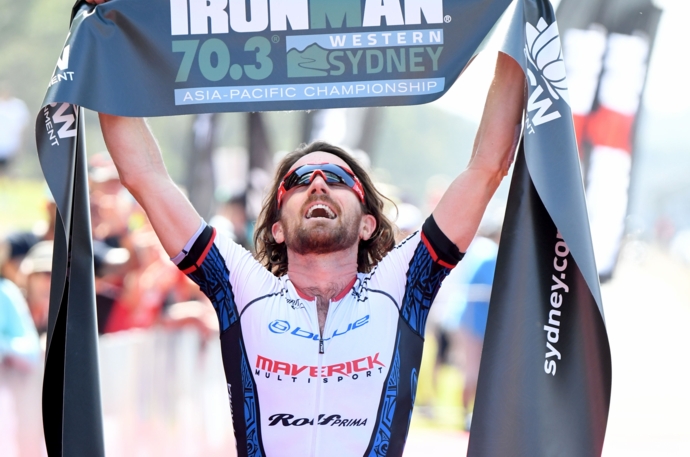 "Half way through the run I had a gap and I was running pretty comfortable but things can happen so fast over this distance and the wheels can well and truly fall off. So you are never really 100 per cent secure until you cross the line. This race will always be special and I was really soaking up the atmosphere going across the line. I will look back on this race very fondly. Winning and Asia Pacific Championship on Aussie soil and having such a great field will something I will always remember."
USA swim/biker Lauren Brand was keen to capitalise on the swim and exiting T1 with fellow country woman Haley Chura and Rebecca Clarke (NZ) the trio shared a two minute lead over defending champion Annabel Luxford, Liz Blatchford and Felicity Sheedy Ryan onto the bike. At half distance Felicity Sheedy Ryan moved into third place two minutes off the lead, Blatchford was fifth and Melissa Hauschildt into sixth but the defending champion Annabel Luxford lost all contact with the leaders and her hopes of a three peat came to an abrupt end. At 60km on the bike Sheedy Ryan was on a charge and moved into second only 14 seconds ahead of a charging Melissa Hauschildt who found herself in fifth place.
By T2 Lauren Brandon's lead was down to 27 seconds with Hauschildt in second, Amelia Watkinson in third and Sheedy Ryan 18 second further down in fourth place. At 6km the women's race turned into the dual everyone had been waiting for with Melissa Hauschildt running herself into the lead and Sheedy Ryan only 17 seconds down. The pair battled each other for another 10km with the lead swapping several times before Hauschildt rolled the dice and went for home.
"It has been an emotional ride and I didn't know how it would go. Training has been going well since the IRONMAN World Championship in Kona and my blood levels are back to normal so I knew I was in reasonable shape but it has been more than a year since I raced well and raced fit. So I didn't know what was going happen out there," she said.
"I had a disappointing with my swim and I felt like I was last out of the water and five or six minute behind. That threw me a bit but I thought the bike and the run are my strengths so just go as hard as I could and it paid off. Felicity overtook me at 11km so I just sat on and got my breath back. But at 5km to go, I thought I better go because I didn't want to be a sprint finish with a short course athlete.
"It is such an amazing feeling to win this race and this title. I had surgery in March and I thought everything was going to go to plan and be racing by June but it didn't happen. I had a complication with the surgery and a lot of blood loss and the surgeon said I wouldn't be able to race at all this year. Winning the Asia Pacific Championships and with IRONMAN Western Australia next weekend it is just so good to be back.
"I love doing the Championship races because the bigger and better fields always push you to your limit. Running side by side with someone like Felicity always gets the most out of you. I will just recover now for the IRONMAN in Busselton and I should go okay. I think I am in good shape and hopefully I can go back to back over there."
As the IRONMAN 70.3 Asia Pacific Championship, Western Sydney now offers 60 qualifying slots to the 2018 IRONMAN 70.3 World Championship, to be held in Nelson Mandela Bay, South Africa.