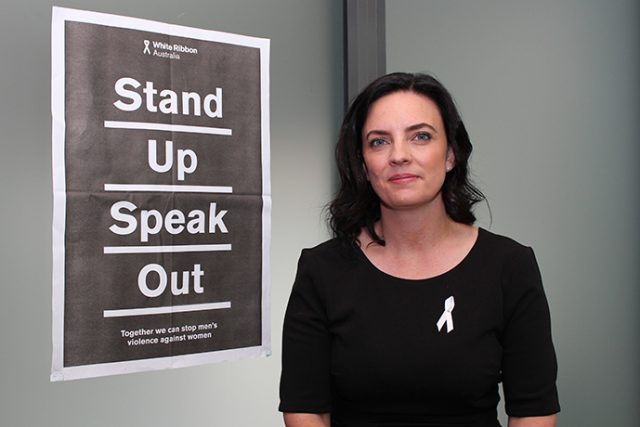 When it comes to domestic violence, the political is personal for Member for Lindsay Emma Husar.
In her maiden speech on September 12, 2016 Ms Husar said she had spent 29 years "both as a child and as an adult, living in domestic violence".
Two months later on November 23 in a moment of vulnerability and passion she spoke in detail about her experiences with domestic violence as the House of Representatives came to an emotional standstill.
"Since that day, I guess I felt quite empowered by it, that I could be myself authentically," Ms Husar told the Weekender a year later.
In the months that followed, Ms Husar has transformed from a rookie politician to a strong advocate using her position of power to give a voice to those struggling to find their own.
"We have the second highest rates of domestic violence [in Penrith]. They're consistently high, and have been for the last few years," she said.
"In our area, in any area in this country, domestic violence is not okay.
"This is the place I am the proudest to call home, and I don't want that to be the thing that we top the state in."
She is currently advocating for employers to sign on for 10 days paid domestic violence leave, which she says ends up costing as little as five cents per day, per employee.
"It saves money in the social welfare budget, it saves money in the mental health care space, it saves money all over the place," she said.
While the decision should never purely be based on economics, the money saved could potentially be funnelled into other services.
"I think that the most undervalued service in our community is the Penrith Women's Health Centre," she said.
"They rely on the funding that the Government gives them. I'd love to see more money put into our Women's Health Centre from everyone."
For those who are victims of domestic violence, Ms Husar shares the best piece of advice she was given.
"Never make a permanent decision on a temporary situation," she said.
"However many times it takes, every time you leave, you get stronger."
When asked why she chooses to speak out against domestic violence, her answer was firm.
"It's the right thing to do," she said.
"Violence perpetrated against women is a human rights violation. It creates long term harm and consequences for everyone."
State Member for Penrith, Stuart Ayres is also encouraging the community to stand up, speak out and act to prevent violence against women this White Ribbon Day.
"We must work as a community to rid Penrith of these insidious acts against women. Our daughters, mothers and sisters deserve to live in safety. It's our responsibility to ensure they have it," Mr Ayres said.
Emily Newton is the Weekender's police and political reporter. Emily is also the Weekender's Senior Journalist.