Six-year-old Sophija Petrovski's dad, Paul, isn't sure how his talented daughter discovered a passion for figure skating but he reckons an old Barbie movie may have had something to do with it.
Since lacing on a pair of tiny ice skates 18 months ago, the Kindergartener at St Mary MacKillop Primary School hasn't looked back.
Late last month Sophija took her talents to Adelaide to participate in her first major national figure skating competition known as the Panda Challenge and Artistic Trophy.
Featuring skaters from all around the country, the Panda Challenge consisted of both artistic and technical routines.
Growing in confidence every time she steps on the ice, the Claremont Meadows youngster wowed the judges when she dressed up as Ariel from the 'Little Mermaid' and skated freestyle to Disney hit 'Under the Sea'.
Sophija was crowed champion in the artistic category for her routine as Ariel and backed it up with another first place in the technical category.
Speaking with the Weekender, Penrith Valley Figure Skating Club coach Kristain Ryan said he was incredibly proud of his young protégé.
"I'm so proud, she's come a long way in the last six months and has really lifted her love for skating," he said.
"Sophija always caught on quickly to skating, it was just her competitive side that took some time. She was apprehensive at first about competing but now she can't stop asking when the next competition is."
Sophija – who was enjoying a nice warm cup of Fantastic Noodles before her training session at Penrith Ice Palace on Tuesday – said she loves everything about the sport of figure skating.
"I think it's really fun and I like the costumes and dancing," she said.
"I also made some new friends in Adelaide, which was fun."
While Sophija's figure skating career is very much in its early stages, her coach believes her attitude and strong work ethic will put her in good stead for the rest of her life.
"It's an amazing sport that teaches you so much life skills and builds your character. I think it also helps your confidence in day to day life," Ryan said.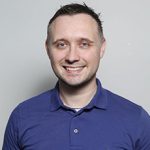 Nathan Taylor is the Weekender's Deputy Editor and Senior Sports Writer. He also compiles the weekly Chatter on the Box TV column. Nathan is an award-winning journalist, who has worked at the Weekender for nearly a decade.