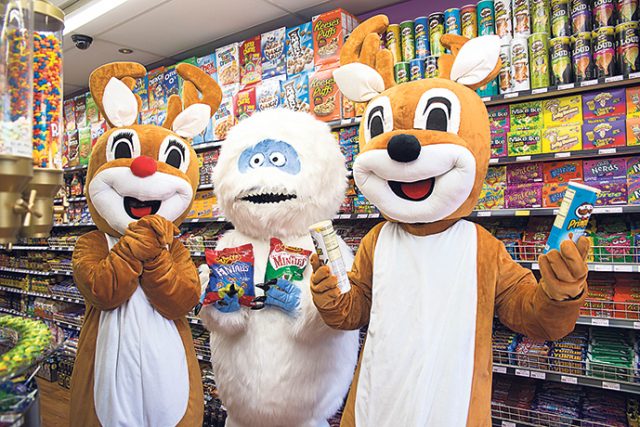 Santa's helpers were hard at work this week visiting local shops to spread the word about his planned arrival at this year's Christmas Tree Lighting event.
The Abominable Snowman and his Reindeer friends will be joining Santa and other characters at the event held on November 17 at Memory Park in Penrith.
Coming a long way since it started four years ago, Penrith CBD Corporation CEO Gai Hawthorn said that this year's event is set to be the biggest yet.
"We started it the first year and we had one little tree in the pop-up park and probably a crowd of about 300, and it was a really nice community spirit night," she said.
"Last year we reached 5000 people and now we have a much bigger tree."
This year the event will also include Taste of Christmas, which will see the local restaurants like Trevi's around Memory Park add to the Christmas spirit.
"High Street Social are also having a set menu and they're staying open late and Mr Watkin's is going to bring out his little hot dogs even though his bar doesn't open for another week until after the event and Screaming Beans are also staying open.
"Then we are bringing in Menu by the Park, which is about 16 different food trucks, so everyone is going to have an amazing amount of food to choose from which is really good."
While people will find that this year there are many highlights for the whole family to enjoy, Ms Hawthorn said, for her, the highlight is always the community spirit that underlines the event.
"I think it isn't one highlight, it's more about the community spirit, be it business or social community and they all come together on that one night," she said.
A major boost also came last week after Premier Gladys Berejiklian and Penrith MP Stuart Ayres presented the Penrith CBD Corporation with $10,000 to spend on local shopping and dining in the area.
"Local businesses are at the heart of their communities and we are so pleased to offer this support," Ms Berejiklian said during a visit to Penrith.
The funding will go towards the 'Shop and Dine Local' campaign, which will give local businesses a festive vibe for the Christmas season.
"We are truly grateful to receive the funding especially at this time of year," Ms Hawthorn said.
The festivities on Friday, November 17 commence from 5pm.
Lauren Suttie is the Weekender's General & Community News journalist.