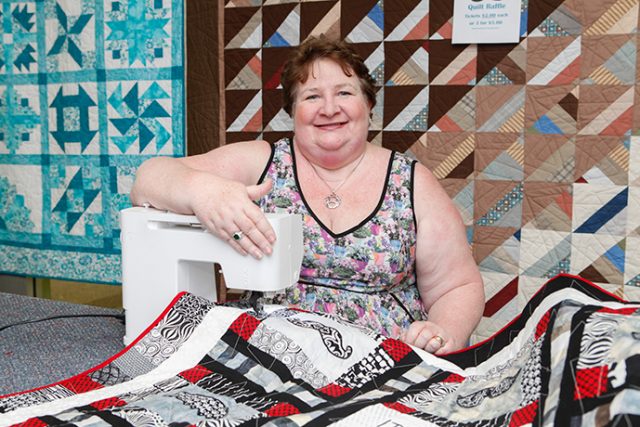 Denise Haddrill and her never ending stash of fabric have been creating quilts for over 14 years, with most of her works being donated to charity.
Her two latest works, one a bed quilt and the other a wall hanging, are being raffled off at Hobbysew in Penrith, with all proceeds going to the Movember Foundation.
The Movember Foundation is one of the only charities that addresses health issues faced by men, which includes both prostate and testicular cancer as well as men's mental health.
Ms Haddrill's husband has been involved in Movember for the last nine years, and this year Mrs Haddrill also wanted to help contribute to the important cause.
"The men in our lives constantly support us and I felt that by making quilts to raise funds it provided an opportunity for me to show support for them," Mrs Haddrill said.
Mrs Haddrill is known at Hobbysew for her generous donations and has been involved in creating quilts for those who are less fortunate despite having her own health issues.
"I have a few health issues, so I use quilting to take my mind off them and occupy it," Mrs Haddrill said.
Her teacher at Hobbysew, Ruth Marshall, said that she is the most generous lady who is always using her time to help others.
"I think that it is amazing and I think that it is really good that she puts all this time and effort into charity work," she said.
Both first and second prize for the raffle are currently on display at Hobbysew, located at Skiptons Arcade.
The raffle will be drawn on November 25 and tickets can be purchased in store at Shop 5/541 High Street, Penrith.
Lauren Suttie is the Weekender's General & Community News journalist.