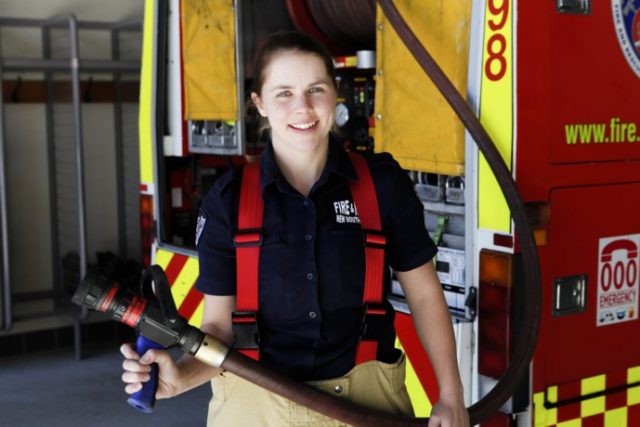 With the threat of an early fire season this year, the region is getting prepared by welcoming three new firefighters to the area.
After graduating last week, Alice King has been positioned at Cranebook Fire and Rescue New South Wales to begin her new and challenging career.
"I think the challenge is really attractive to me, you're doing something different every day, learning new skills," Ms King said.
After 13 weeks of intensive training, Ms King graduated into the ranks of Fire and Rescue NSW following a ceremony at the State Training College in Alexandria last Friday.
"I've never learned so much in three months," she said.
"I was in childcare and I loved doing that but I just wanted something a bit more fulfilling.
"I did love looking after the kids, but I'm just really excited to get my hands dirty in this new career."
Ms King, a mother of two, knew for a few years that a career change was on the horizon, even going as far to apply a few years ago before having her second daughter.
"I've probably known for about three or four years that this was what I wanted to do, but I didn't have the confidence," she said.
"I didn't know that I was ready for it."
While the training was hard and she knows the work will be challenging, Ms King said she recommends anyone interested in becoming a firefighter to take the jump.
"It really pushed me, but it's just so worth it at the end of the day," she said.
"You just got to have a go and give yourself the best chance."
The area also welcomes Aliysa Gibbons to Ropes Crossing and Joseph Griffin to Regentville fire stations.
Minister for Emergency Services, Troy Grant said the graduates have a unique and rewarding career ahead of them.
"Our latest class of firies has received advanced training in firefighting, road-crash rescue, high-angle rescue, advanced first aid, community risk management, fire science and hazardous materials response," he said.
"I wish the graduating class well in what is an important, yet often challenging profession, and I thank them for choosing to dedicate their careers to the protection of lives and property across the state."
Mulgoa MP Tanya Davies also welcomed the area's new firefighters.
"I'm very pleased that our community will benefit from the enthusiasm of the latest FRNSW class," she said.
Emily Newton is the Weekender's police and political reporter. Emily is also the Weekender's Senior Journalist.