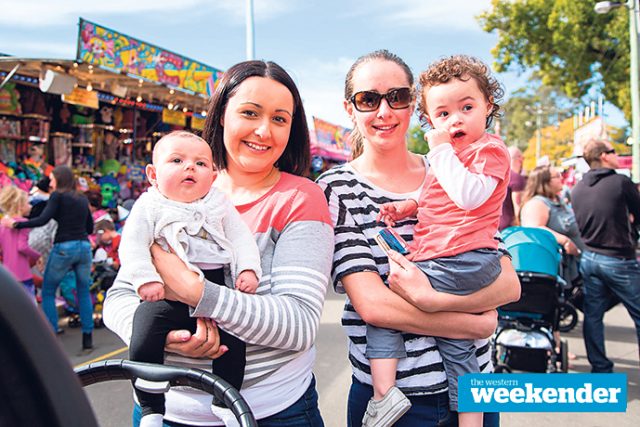 Now in its 174th year, the Penrith District Show is promising to be a weekend to remember for the whole family.
Held at Penrith Paceway, CEO Lorraine Pozza said this year will be nothing short of "spectacular".
"This year is going to be bigger and better than ever," she said.
"It's going to be so much more user friendly for the families."
With a dedicated kids' corner, everyone will be impressed when Batman and his Batmobile stop by to say 'hello'.
"He arrives at 10am on both days, and he will be here for the whole day," Ms Pozza said.
"Everything you can think of that children love to do, will be in the kids' corner."
From an animal farm nursery to car displays, there's something to satisfy both the young and old at heart.
"On the centre stage you're going to be entertained. There will be non-stop performances," Ms Pozza said.
"We've also got buskers to entertain people as they walk through."
One group of performers are Bollywood dancers as a part of an Indian promotion to give Penrith a taste of what's to come in future events.
With magnificent horse events running across both days, the excitement continues on centre stage in the afternoons and evenings.
"A lot of people do come to see the horses, and we've got Rooftop Express, one of our main events, coming straight from Brisbane," Ms Pozza said.
On Saturday night, Rooftop Express combines showmanship, stunts, horses and cattle with the swagger of an Aussie larrikin.
Team D-MAX will also get the blood pumping both days by performing a huge range of stunts in their Isuzu D-MAX utes, including formation driving, high speed drifting, daring crossovers and a ramp-to-ramp jump.
With a phenomenal fireworks display on Saturday night, this year's Penrith Show is something you won't want to miss.
"The show has evolved, it is going to be spectacular, you really have to come along to experience it," Ms Pozza said.
The show is on this Saturday and Sunday. Tickets cost $16 for adults and $9 for children/pensioners. For more information, visit www.penrithshow.com.
Emily Newton is the Weekender's police and political reporter. Emily is also the Weekender's Senior Journalist.