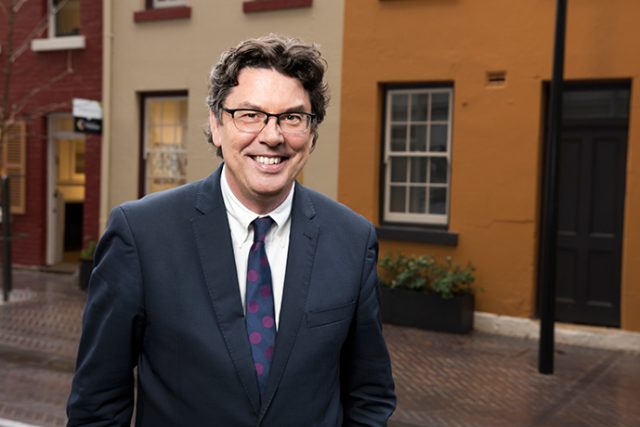 Have you heard the one about Possum Man? Eric the Breastfeeder? The Guinea Pig Chef?
These are just a handful of the hilariously bizarre tales ABC radio host James Valentine has come across over 20 years hosting his radio show 'Afternoons'.
This August he'll be bringing these stories and more to the Blue Mountains Theatre stage in his hugely successful live show 'Afternoons Tonight!'.
With many creative hats already on his head – including journalist, author, presenter, TV host and musician – James admits the live shows are a chance to embrace a new role, which he describes as a 'stand up humourist'.
"A stand up comedian to me is about gags, whereas a humourist tends to be more observational and as interested in audience contribution as they are their own," James explained.
After many years on radio it's the weird and wonderful tales from listeners that provide James with the most amusing subject matter.
"What I love in my radio show is talkback where people are calling in telling me stories and telling me things about their lives and making their own observations," he said.
"I think of that as kind of like 'found humour', it's humour where someone is telling you a story about their cat, and it's incredibly funny but it's a real story."
With the live show, which enjoyed a sell out season in 2016, James brings that talkback mentality to a room of real people, with hilariously awkward consequences.
"There's a segment called 'This is what I live with' where we talk about what your partner does that annoys you," he said.
"If you can get somebody in the room to talk about the thing their partner does that annoys them, while the partner's sitting next to them, it's gold," he laughs.
While sharing those weird and wonderful stories provides plenty of laughs, James also appreciates the way opening up can help to create bonds between audience members.
"If it happened to you it's worth talking about because it's probably happened to somebody else," James said.
"It's a nice way of realising we're all the same."
'Afternoons Tonight! with James Valentine' will be on at the Blue Mountains Theatre in Springwood on Saturday, August 19 at 8pm. Tickets are $27-$30. To purchase tickets, call 4723 5050.