An inmate busted with secreted contraband after she took receipt of drugs and tobacco from a visiting relative has earned herself more time in the slammer.
Cheryl Lee Jones, 45, who was at liberty following a separate appeal, became highly distressed and cried as the reality of her fate sank in when she faced Penrith Local Court for sentencing.
Magistrate Roger Clisdell found while Jones may have indeed been "stood over" and under "significant duress" from other inmates as her lawyer submitted, in his view anything less than full time custody would go against his duty to the public.
"If she accepts the duress of others she has to take responsibility for what she has done," he said.
"I'm sure Ms Jones knew it was seriously risky."
CCTV captures the offender, who was being held at Dillwynia Correctional Centre, Berkshire Park at the time, accepting a yellow plastic container containing some tobacco, diazepam tablets and two strips of buprenorphine all wrapped in separate cling film, which she proceeded to secrete it in her vagina.
The court heard two days after the February offence, Jones faced the District Court for a severity appeal where her original six-month sentence was reduced to a Section 9 good behaviour bond.
Magistrate Clisdell said he doubted the Judge would have been aware of the fresh incidents.
He said allowing prisoners to be let off because they were being physically dominated was "sending the wrong message", citing the recent emergence of mobile phone footage filmed by a Parklea prisoner showing off a knife, razor and 'ice' as a "stark example".
"It seems to me general deterrence looms very, very large," he said.
Jones, who has a longstanding history of drug abuse, was sentenced to eight months jail with a non-parole period of six months, but is expected to appeal.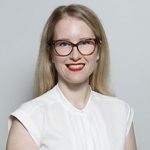 Alena Higgins is the Weekender's Senior News Reporter, primarily covering courts and Council issues.