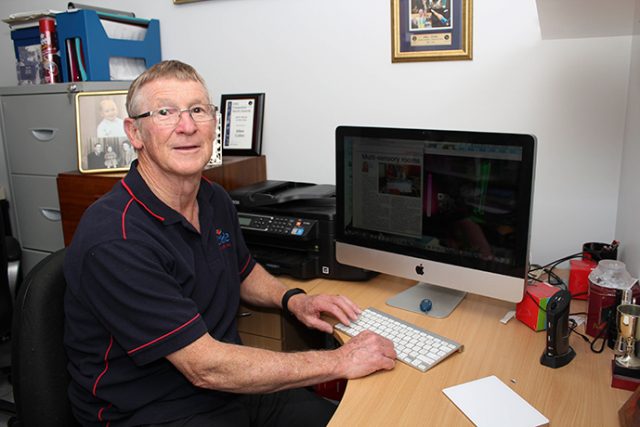 With a list of accomplishments taller than he can bounce, South Penrith's Allen Cullen has been recognised for his service to special needs education – and to trampolining.
Like a true teacher, Mr Cullen was quick to quip a joke saying, "they've both had their ups and downs".
He first found himself becoming a special needs teacher after a friend suggested he would be a great fit following his success as a remedial reading teacher.
"It's been difficult over time, and special education has gone through a number of phases, with ADHD, dyslexia, emotional and behavioural disorders, and now autism," Mr Cullen said.
"You've got to be aware and vary your teaching styles to the individual students.
"What works with one student, won't necessarily work with the other."
Mr Cullen has been a teacher for 50 years and has a wealth of experience including working as the former Principal at Werrington's Kurrambee School.
He was also a founding member of NOVA Employment, a disability employment service that today helps hundreds of people annually.
You wouldn't be able to guess it but Mr Cullen was also a crucial part of trampolining becoming an Olympic sport for the first time at the Sydney Olympic Games in 2000.
"If my children were involved with activities, I would become involved as well," he said.
"When my daughter became involved in trampoline sports, or tumbling, I just couldn't sit down and watch, so I began helping.
"In helping, I became an assistant coach, then coach, then a judge, and as my daughter moved into higher levels of trampoline sports, I became an international judge."
He eventually went on to become the President of Trampoline Sports NSW, where he helped trampolining become accepted as a gymnastics discipline for the Olympics.
Today, Mr Cullen still works part time at Kurrambee School and is the President of Little by Little Inc, a registered charity to support students with high support needs and their families.
Humbled by receiving the Order of Australia Medal for his service, he has no plans to slow down his community work anytime soon.
"I'll see what life brings," he laughed.
Emily Newton is the Weekender's police and political reporter. Emily is also the Weekender's Senior Journalist.