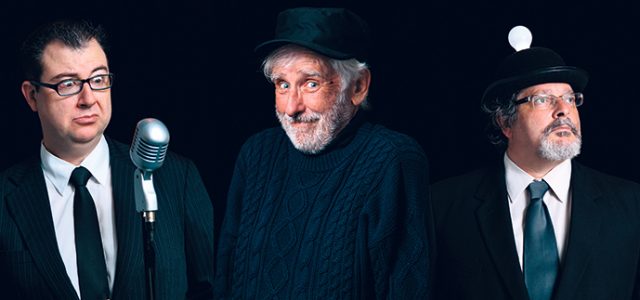 Yulefest in the Blue Mountains brings with it many traditions.
One such tradition involves three men, a stage and a whole lot of laughs.
'The Goon Show Live!' has become a staple of the Katoomba entertainment scene, having been performed each winter for six consecutive years.
Based on the classic British radio comedy, which inspired comedy greats like Monty Python, 'The Goon Show' introduced audiences to the genius of Peter Sellers, Spike Milligan and Harry Secombe.
Returning to the stage in the role of Spike is Cranebrook-based actor Robin Queree, who grew up with 'The Goon Show'.
"I've been a big fan of 'The Goon Show' since I was a little fellow, it's basically what got me into acting because I used to love all the voices," he said.
"I used to lay in bed on a Sunday night and listen to it on the radio."
It's the show's affinity for silliness that held his interest throughout adulthood, a passion that remains today.
"I love the stupidity of it, it's comedy of the absurd," Robin laughed.
"Spike Milligan just took the mickey out of everything, all the British establishment. Plus the language is just wonderful, the absurdity of the English language as he [Spike] points out is just brilliant."
This year audiences will get an extra special Yulefest treat with the addition of a 'lost' episode, which was the Goon's contribution to BBC Radio's annual 'Christmas Crackers' broadcast.
No doubt the lost Christmas episode will be a hit with the show's fans, who have helped sell out 'The Goon Show Live!' shows across NSW.
"Our audiences are basically old guys like me who used to listen to it on their little radios back when they were kids," Robin laughed.
"A lot of them know the lines off by heart, so we sometimes have the audience saying the lines before we do."
This year's show will also include 'A Bucket of Goons', where the audience will be given the chance to choose from one of three shows they would like to see performed live.
'The Goon Show Live!' will be on at The Metropole in Katoomba every Saturday night in July, plus a special afternoon tea and show on Sunday, July 23. Ask about the dinner and show tickets. To book, visit www.goonshow.com.au.