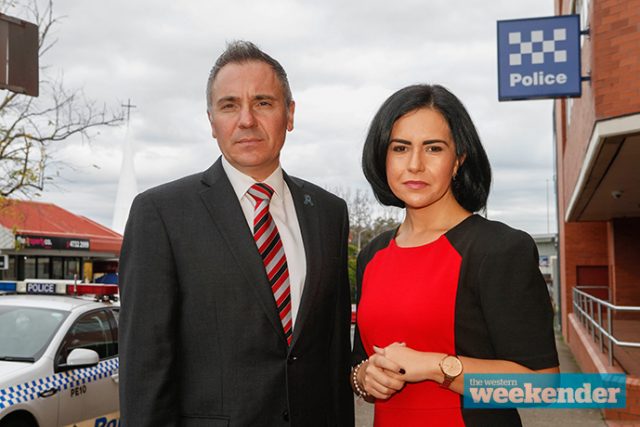 Labor says Police in Penrith are being stretched to the limit with Penrith Police Station six officers short based on recent operational capacity figures.
State Member for Londonderry Prue Car was joined by NSW Shadow Minister for Justice and Police Guy Zangari at Penrith Police Station this morning to discuss how the State Government has "failed to deliver for the region".
"Six officers might not seem like a lot, but over a scope of a six week period when you've got one officer equaling 19 shifts, that's a lot," Mr Zangari said.
"If there is a call out and they're understaffed, a domestic violence call out may be delayed.
"When they do get back, there is a pile of work that they need to do, and then that cuts out on Youth Liaison Officers and other specialist officers."
The figures highlight a growing concern across the state as policing remains under-resourced.
The vacancies mean that in the Penrith Local Area Command alone, 114 shifts are covered by officers through overtime before taking into consideration additional shifts like sick leave, maternity leave or officers who are injured.
Ms Car said the statistics reflect that local cops are overworked, and has implored Penrith MP Stuart Ayres, the previous Minister for Police and Emergency Services, to fight for the community.
"Police here are under so much pressure," she said.
"The community has the right to ask, 'what good is having the Member for Penrith in the Cabinet if we're constantly denied what we're entitled to'.
"The area is exploding in terms of population, so we're shouldering the lion's share of the growth.
"We need six police officers just to operate at the population level we have now, let alone the population we will have in six months or two years."
Mr Zangari said no amount of shuffling staff will be a proactive solution.
"The Government has neglected policing," Mr Zangari said.
"Rather than the Government talk about shuffling resources here and there, they need to put more troops on the ground.
"It's just indicative of a Government that is hell-bent on the budget bottom line."
Mr Ayres hit back at Labor's comments, labelling Mr Zangari a "clown".
"Penrith has the lowest crime rates we have seen in years and this Labor clown swans into Penrith and forgets to count officers on sick and annual leave as well as those on training," Mr Ayres said.
"There are now more Police on the beat in NSW than any year under Labor. What's worse is Labor has no plan to continue to fund our Police Force into the future, putting hard won gains at risk.
"Mr Zangari couldn't tell us how he would fund even one new police officer in Penrith. If you can't answer that, how can we trust Labor with anything."
Emily Newton is the Weekender's police and political reporter. Emily is also the Weekender's Senior Journalist.