A St Clair man who grabbed a stranger by the jaw after she accused his wife of child abuse has been handed a good behaviour bond.
Andreas Sophocleous, 38, fronted Penrith Local Court yesterday charged with common assault after he became defensive and violent when the on-looker intervened.
The court heard the victim and her daughter-in-law had just left a Penrith steakhouse about 8.15pm on January 25, and were chatting in the car park when the offender and his family pulled up nearby.
The victim heard a young child, aged about five, screaming and witnessed the mother yelling at the child to stop and "shut up" before grabbing the child by the arm and dragging her from the car.
Agreed facts tendered at court state the victim then saw the mother "grab the child's arm again and twisted it with force", causing her arm to go backwards, all while the child continued to scream.
When the female again twisted the child's arm, the victim demanded she "stop hurting the child or I'll call police".
Sophocleous, who had just removed a younger child from the car, told her to mind her own business, but when she failed to comply, put the child down and lunged at the victim, grabbing her jaw, squeezing it and pushing her backwards.
He came at her again when another bystander suggested they "take a photo of the rego", but the victim stood up to him and he "backed off".
Magistrate Geoff Hiatt – who ordered the facts be sent to DOCS – told the 38-year-old his behaviour was "totally reprehensible" and refused his lawyer's request to dismiss the charge given his otherwise unblemished record.
"This isn't a matter I'd exercise my discretion… and I am fully of the view that a conviction should be recorded," Magistrate Hiatt said.
"If it hasn't been referred to DOCS, than a copy of the facts should be sent," he added.
Sophocleous, who attended Penrith Police Station the day after the incident, made admissions during a voluntary interview in which he repeatedly said "she needs to apologise to my wife".
He was convicted and sentenced to a 12-month Section 9 good behaviour bond.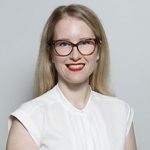 Alena Higgins is the Weekender's Senior News Reporter, primarily covering courts and Council issues.