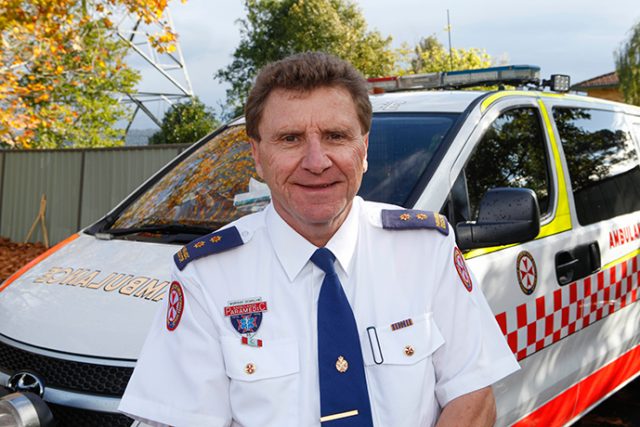 A local hero, Murray Scanlan has been recognised for his commitment and outstanding work as a NSW Ambulance educator across the Penrith and Blue Mountains region.
Listed as a finalist for the 2017 Rotary NSW Emergency Service Community Awards, Mr Scanlan covers the whole of western Sydney as he looks after the welfare of other ambulance officers.
"I go around to the stations looking after the officers' wellbeing and making sure they're on track with their studies," he said.
"I spend my time teaching and mentoring and facilitating officers either in a classroom or actually in an ambulance with them."
An intensive care paramedic for 25 years, and working with NSW Ambulance for 30, there is a passion that drives Mr Scanlan's desire to care for the wellbeing of others.
Previously an SES road rescue volunteer, he received the call out that every volunteer fears, an incident involving his wife that changed his life.
It's a story you only hear about, something almost impossible to imagine happening.
"I attended the accident in which she got killed," he said.
"I wasn't going to stand by and be useless, and so I went out and joined the ambulance.
"Since that day, I've gone out to do exactly what I set out to do."
Following the incident he suffered from PTSD, but has dedicated his life to mentoring other paramedics and volunteers.
With 400 on road officers in the area, Mr Scanlan makes sure he sees them all.
"If I don't see them, then they turn around and slip through the framework and might not be clinically safe," he said.
Minister for Emergency Services Troy Grant said the awards celebrate the outstanding contribution of emergency services workers in our communities.
"We should never take for granted the work our emergency services staff and volunteers do and it is important to acknowledge the unsung heroes who have gone above and beyond," Mr Grant said.
The winners will be announced on August 4 at a special presentation dinner.
Emily Newton is the Weekender's police and political reporter. Emily is also the Weekender's Senior Journalist.